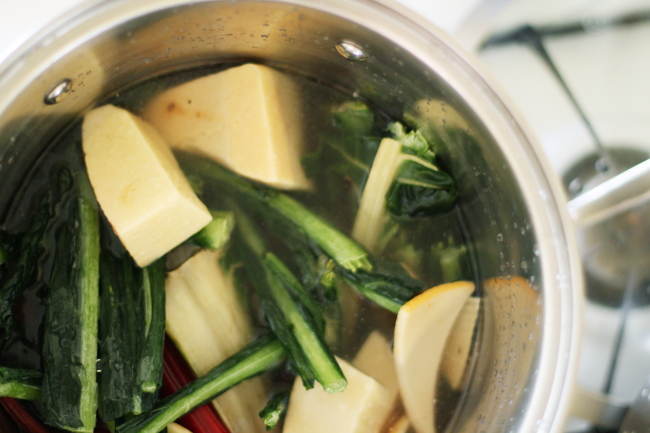 I may have started working in restaurants when I was 16 years old, but it wasn't until much later that I began to learn culinary techniques I could use at home.  I can't blame my lack of development on anything more than circumstance. I started in a small town in Massachusetts where the best seafood was fried or boiled, every restaurant kitchen had a microwave, hamburgers were unpacked as frozen beef patties, and iceburg was the only lettuce we knew.
Graduating from country club catering and seafood shacks, I began working in restaurants where the people in the kitchen weren't summer help, the stainless steel counters were clean, knives were sharp, and saute pans and gas ranges cooked every dish to order.
The greatest lessons I've learned from the men and women of Los Angeles' best restaurants is to pay attention to the little things. Simple fundamentals—cooking techniques, tools, and ingredients–create memorable food and extraordinary dining experiences.
One recent discovery came from my restaurant's former chef, Evan Funke. I was inquiring about the minestrone soup we were serving. The flavors of the broth were so round and full of flavor, I was having a hard time believing the soup was vegetarian.
Chef Evan assured me that the minestrone was one hundred percent vegetarian. "The trick to the flavor," he said, "is from sweating down onion and garlic, and adding Parmesan rinds to the stock."
Soon after I decided to try out chef Evan's trick. Rather than staying with a fully vegetarian stock I used left over vegetable scraps, a chicken carcass, and a tupperware filled with handful of leftover Parmesan ends. What resulted was the most flavorful, golden broth I have ever had the pleasure of making in my kitchen.
What kinds of tricks have you learned along the way that have made all the difference?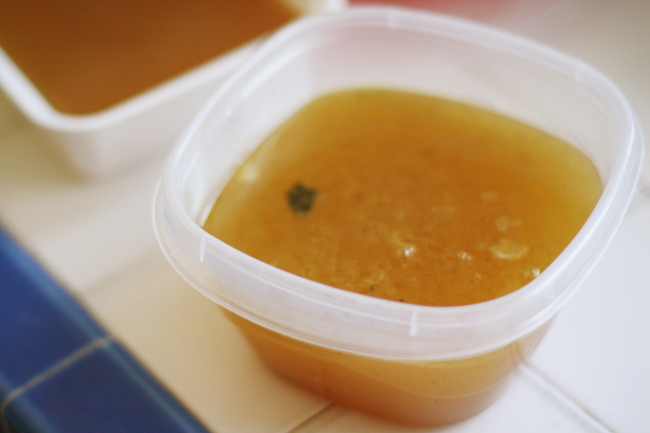 [print_link]
Easy stock
I always make stock the day after I roast a chicken. Now that I'm adding Parmesan rinds to the base of the broth, things are really getting tasty. You don't need to use chicken or any meat (for that matter) to make tasty stock. The key to making a flavorful stock super is to collect your vegetable scraps over a week's time,  keep them in the freezer in an airtight container, and add as many rinds of hard cheese as you have!
Frozen vegetable stems, tops, skins (carrots, kale, potato, etc.)
Chicken carcass and bones*
Hardened Parmesan rinds
Place the chicken bones and vegetable stems in a pot. Fill the pot with cold water, just until the chicken and most of the vegetable scraps are covered. Do not fill the pot to the top with water. The less water you use, the more flavorful the stock. Turn to high heat. When the stock comes to a boil, immediately turn down to a simmer. Simmer for at least 45 minutes to an hour. Taste. Season with salt and pepper. Strain and pour into small containers. Let cool. Freeze what you can not use within 3 days.
*Chicken carcass and bones are optional! Remove for a fully vegetarian stock!