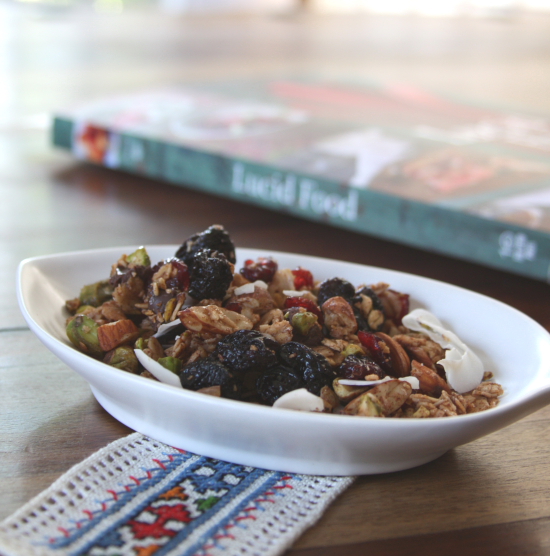 I've been thinking a lot about a very special person in my life that's about three thousands miles away from a great big hug I desperately need to give her. Bleak hours are the time for embraces, warm cups of tea, soft blankets, silly smiles, and gentle kisses. But my beloved friend is back home on the east coast, in a difficult bog that is so deep and wide I can feel its ripples hit the Pacific.
Since my life is built around food and its comforting pleasures, the one thing I long to do is cook a warm and satisfying meal for her. No shipping container can hold the moment of making a meal together. But a well-made care package that's filled with healthy and tasty treats may be just the thing that I can do to offer some much-needed sustenance. Perhaps just a handful of happiness.
In hopes of finding a healthy recipe for a mail-friendly package, I turned to one of my new favorite cookbooks: Lucid Food. The author, Louisa Shafia, is a chef and caterer based in New York City; her cookbook is filled with recipes that celebrate the seasons and the idea that food should be sustainable for the planet and our bodies.
Ever since Shafia sent a preview copy of her beautiful cookbook a few months back, I've been marveling at her healthy, seasonal, and eco-conscious recipes. Shafia is a kindred spirit, a gifted chef, and—it should be mentioned—the newly minted fiancé of a good friend of mine! So knowing that I was in the hands of a pro (and friend by proxy), I quickly settled on her healthy granola recipe. I've modified her recipe a bit—to cater to the likes of my beloved, and with the hope you'll seek out Shafia's version of her new cookbook.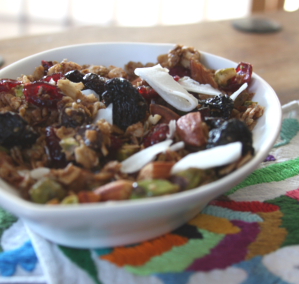 [print_link]
This granola is a healthy treat that's high in magnesium, protein, unsaturated fat, Vitamin E and B6, and other essential minerals and vitamins. It's a delicious gift that will travel well by post or last for weeks (when refrigerated).
The Best Granola Ever
Adapted from a recipe by Louisa Shafia from her new book, Lucid Food.
1 cup hulled pistachios, coarsely chopped
¾ cup almonds, coarsely chopped
2 cups rolled oats
1 tablespoon ground cinnamon
½ teaspooon ground allspice
¼ teaspooon ground nutmeg
pinch of salt
6 tablespoons maple syrup
5 tablespoons olive oil
1 tablespoons vanilla extract
1 cup dried cranberries
½ cup dried cherries
½ cup raw, unsweetened coconut flakes
¼ cup chocolate chips
Preheat the oven to 250º.
Combine the spice, almonds, oats, and a pinch of salt in a large bowl. Add to the mix the maple syrup, 4 tablespoons of the oil, and vanilla extract. Stir well.
Spread the mixture evenly onto a baking sheet and bake for 15 minutes. Stir the ingredients and rotate the sheet tray in the oven. Bake for another 15 minutes. Remove from the baked ingredients from the oven— the granola mixture should begin looking dry at this point—and transfer to a bowl. Add the dried fruit, chopped pistachios (they have a low burning temperature), and the remaining olive oil. Mix well. Spread mixture onto the baking sheet again and cook for another 5 minutes. Add the coconut flakes and bake for 2 minutes more. Remove the pan from the oven and stir in the chocolate.
Let cool before serving or storing.
Serve with yogurt or milk.