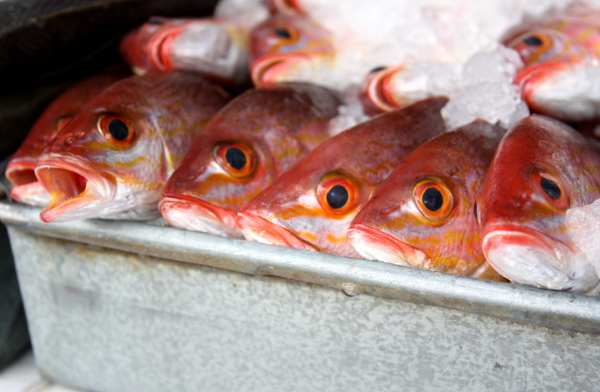 Things are about to start tasting a whole lot different around here.
I'm pushing aside the canned tomatoes and Italian fettucini, and stocking my larder with bottles of fish sauce and dried rice noodles! Why? Because after more than three years working at Mario Batali and Nancy Silverton's Pizzeria and Osteria Mozza, I'm starting a new gig at a pan-Asian restaurant.
What will I be doing? I won't be bartending or waiting tables. I won't be managing, either. My title? Service Guru.
(Cue: Sound of excited GIGGLING)
As Service Guru, I'll be head coach of a big plan to get employees excited about giving great service every day. And not just take your order and get you out the door on time kind of service. We're talking about creating a service program that gives employees the tools they need to put smiles on customers faces, turn them on to new and tasty foods, and makes customers want to come back to the restaurant again and again. My new gig is, without a doubt, my dream restaurant job.
How this all happened is a result of getting focused, putting my goals up on a dream board (Thanks Jaden and Scott for inspiring me at the Food Blog Forum!), putting out positive energy, writing about service on this blog, and being in the right place at the right time. Now, after years of honing my craft as a restaurant professional, I've been given this great opportunity to focus on my favorite part of restaurants. In these next few months I'll be doing a lot of strategizing, planning, teaching, and even more teaching. I'll hold classes, take employees on field trips to meet food artisans, work side by side with every employee to make sure they're a service rock star. I'll create ways to connect with customers and make their dining experience the best that it can be.
It's a bit of culture shock—leaving Italy for Asia—but I'm looking forward to the learning curve (i.e. lots of great new flavors and culinary history). It's time for me to learn new things. Bubbling underneath my fascination for Italian cuisine has always been my love of Asian food.  Some of my earliest posts celebrated my love of Vietnamese Banh Mi, where to shop for Asian ingredients in Los Angeles, and how to make a simple edamame dip for game time nibbling. Living in LA has given me proximity to Koreatown, Thai Town, Japan Row, and even San Gabriel Valley's Little Vietnam.
This week marks the very beginning of my journey as Service Guru. I can't wait to share with you what I discover along the way.