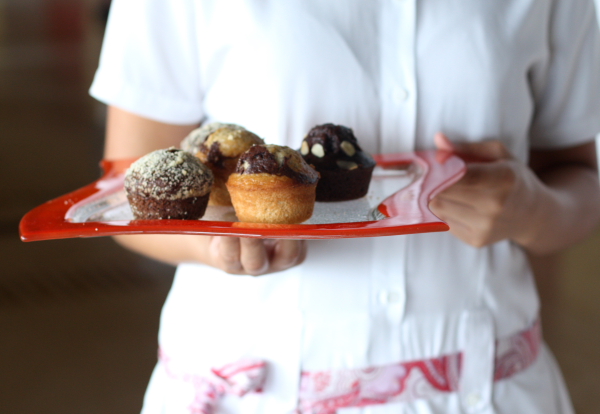 Teaching the art of giving great service is a gift. Thanks to my business as a service consultant, I get the chance to learn on a daily basis that to be of service one must maintain humility, vulnerability, empathy, confidence, and courage in everything I do. I'm discovering that in order to teach the art of service, I must be willing to be of service to everyone and everything, regardless of outcome.
Honestly, when I came up with the big idea to be a service consultant I had no idea what I'd be getting myself into. All this teaching has revealed to me something much bigger is going on: it's one thing to give good service, but it's another thing entirely to pursue the vocation of being of service. I never fathomed this consulting business would lead me to the working opinion that I've got to be humble enough to be of service to everyone no matter what. The whole idea of putting all others before myself is a tall order for anyone. Especially for someone with a big ego.
Now that I have realized the true job requirements of making a career out of putting other people's needs before one's own (humility and selflessness are big challenges), this shifting of perspective and objectives has started working its way into my personal life.
To be honest, I'm not sure how I avoided this transformation for so long.
Teaching the art of service breaks open my life and shows me I have to demolish the way I used to do things. Consequently, my life is experiencing something of a serious renovation.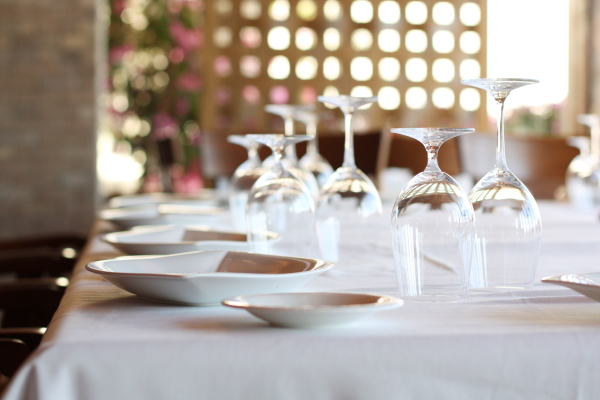 When I wrote down the words "service consultant" on my dry-erase vision board a dozen months ago, I had no idea the work would have the power to transform my life, let alone pay my bills. I didn't know what my business would look like, how to come up with a consulting fee, or even what my title (or more importantly what my domain name) should be. All I knew was that I had a unique talent for hospitality and a real passion for understanding the philosophies and ideals behind giving great service. I figured I'd come up with the rest as I went along.
Soon after I wrote down my intention to become a service consultant, my business sprung to life. It just happened. It was if all I needed to do was voice my desire to start my own business, and suddenly I received a job offer to start a job as a full time service consultant for a restaurant group. I barely had time to come up with a plan. Or doubts. Or even a job title.
I was happy for the speed of the transition. If I had more time to think about the major life change I was embarking upon, I might have thrown on the brakes. In the hero's journey, the call to action is usually an unexpected one. And this was certainly that. The shift was swift and I had little time to consider the ramifications of my new career.
Call me Service Guru
Within the first few hours of working at the restaurant group, I was asked what my job title would be. I snatched the first duo of words that came to mind. "Service Guru" was a title that felt right because it said two things at once and hinted at the idea that service is something more than giving customers a great experience. It winked at the concept that maybe there's something sacred going on in good service.
My job began as it should, with intense study and observation. I worked hard, I learned much about personalities, Asian culture, a new cuisine, and the culture of giving great service. I structured my days around learning the ropes and then when it was time to teach, I organized my plans and created strategies to offer my client the best results.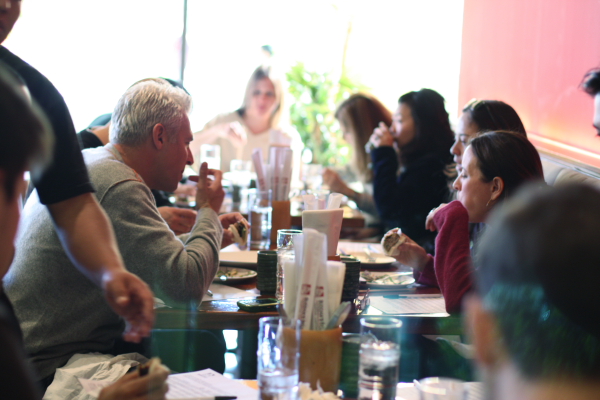 Time passed. I learned the hard way that controlling everything and being inflexible in my approach to the way things should be done was not condusive to growing my business. The more projects and challenges I took on in my job, the more I recognized the need to change the way I approached my work.
The first thing I needed to change was my title. The Service Guru, though very cool-looking on a business card was very, very, very bad for employee moral. My title communicated a message to the staff that I never intended. It created a distance between myself and the people I was teaching. It made people think my position was set apart from everyone, yet I worked in the dining room. I wasn't like a "regular manager"–I didn't schedule people or do inventory–and yet I was constantly on the floor, observing the flow of the restaurant, clearing tables, giving notes and feedback and generally acting like a service cheerleader. I was a leader, yet I wasn't an owner. Guru–the word–it seemed, generated much of the confusion.
People did not know what to make of me.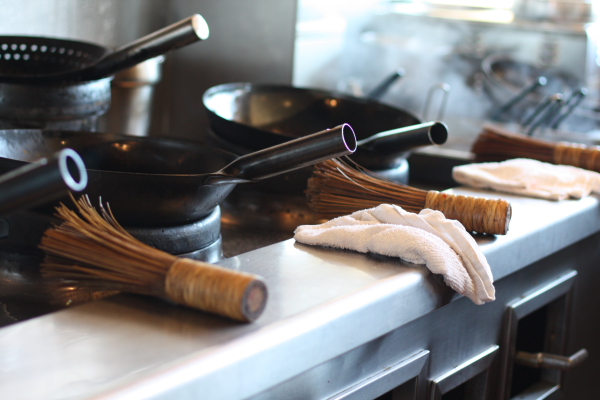 Yes, I needed to be an intellectual guide for service. But unlike a guru, my job wasn't to sit apart from the action on an immovable mountaintop. I needed to be an active participant and leader. I had to be where the action was. My success required me to synthesize what I knew and be the example of what poise, great attitude, commitment and positive energy was in the dining room.
My business didn't need me to be a guru. It needed me to be a coach.
The moment I made the shift towards becoming the Service Coach, everything opened up. I saw opportunities where I once saw blockages. I stopped trying to control everything myself and asked for help.  I saw natural born leaders and leaned on them to help me create a better culture of service. I asked for help. I showed humility, weakness, empathy, and compassion. I saw how my flaws were getting in the way and how I needed to take my advice and humble out and be of service—to both the customer and my clients.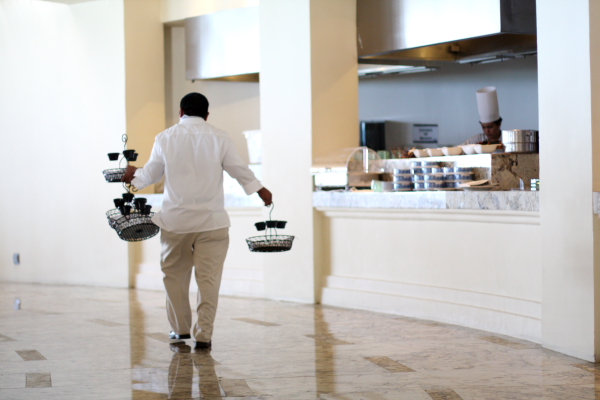 In these past months, my business has shown me the deeper meaning of being of service. I'm starting to see how expectations, character defects, unhinged emotions, unattended needs (like hunger and addictions to sugar, caffeine and other things) all threaten to make the industry of helping another—get the food or drink people desire, for example—fall apart.
Repetition and practice helps the synthesizing process, but it is the act of teaching that helps create the deepest level of learning by allowing us to interface with the data and make it part of us. Teaching service helps me become one with it. In the words of Chevy Chase in Caddy Shack, if you want to hit the ball, you must be the ball.  Turns out, if you want to teach service you must be service.
I define success in service as the moment when a customer gets something unexpectedly good from their service professional and, for perhaps a flickering moment, experiences something of energetic expansion. Maybe it feels like a deep sigh of relief, or settling back into one's chair knowing that they're being taken care of, or—if things are really going right—that they feel extra good in the moment.
The moment of delivering great hospitality gives the giver and the receiver a momentary gift that might feel like a minor victory, a mini-touchdown, a kind of homecoming, or a healing of a tiny wound. A moment of great service is a wonderful feeling. It's a rewarding art. It's a moment worth working really hard for.
The moment you start a new business you start learning what it is and what it isn't. The study, research, visioning, and then—in an extraordinary leap of faith—the actual doing of that thing you want to do determines the structure and core values of your company.  After almost a year, I'm starting to have a clear idea of what my business is becoming and what is truly required of me.
In order to be successful at teaching this craft, I have to empty myself of self-will and desire to get things done exactly my way. This work requires humility and compassion first and then a dogged determination to get things done right. I must be a leader and a coach who shows people the skills they need to be the best at what they do. I must encourage hard work and offer plans for the long game. I have to motivate people around the fact that there are no easy wins in service.
Every day is a struggle. The job of a coach isn't all fun and playing games (though there is plenty of fun, too). My job is to support and inspire men and women to approach a form of work that cannot be accomplished solely with hope and hard work.
Giving great service requires heart, gusto, discipline, humility, and commitment. It's a beautiful vocation.