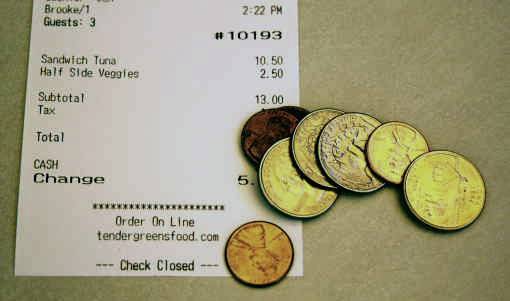 If a diner is unhappy with service at a restaurant they can voice their concern to the management or leave less tip for their waiter. As I mentioned recently about a recent poll on CNN's food blog, Eatocracy.com, 49 percent of the people polled said they have left nothing for waiters, while another 34 percent said they have left a very low tip–as little as just a penny–to show their dissatisfaction with service. The amount of a tip, many respondents explained, gives financial reward to waiters for good work and punishes the bad ones.
But what happens when a restaurant eliminates the tipping structure out of their business model entirely? Does service improve or get worse?
Jay Porter, the owner of The Linkery in San Diego, says that his front of house staff and kitchen workers' performance improved once his restaurant stopped accepting tips. The small neighborhood restaurant began its "no tipping" system in 2004 when they instituted a flat 18 percent "table service fee" on the final check for diners who eat at the restaurant.
"No other profession has the customer adjusting your pay scale according to performance," says Porter. "That's just not a circumstance when people do their best work." Porter says this unique payment model brings his restaurant in line with other American industries. "It's good for our staff to be seen as professionals, just like every other profession in America. No other profession other than the restaurant industry has people evaluating your work and basing payment on that."
Porter is careful to point out that unlike other restaurants that add a fixed gratuity to all of their diners' checks–places like Thomas Keller's French Laundry, Alice Waters' Chez Panisse, or even Venice Beach's Sauce on Hampton–The Linkery is the only restaurant in America that doesn't accept any payment beyond a service charge. "We don't work for tips. We charge for what we do." Any additional money diners might leave behind for the wait staff is donated to charity.
What does Porter say to people who argue that restaurant service fees fail to motivate servers to give good service?  "People who don't like the idea of our service fee are the very same people who have jobs where they don't have to worry about their pay being adjusted every fifteen minutes," says Porter.
Michael Lynn, a recognized expert on tipping and a professor of consumer behavior in Cornell's School of Hotel Administration, says most diners dislike the practice of tipping. "They wish they didn't have to tip, but they dislike a service charge even more," Lynn says. "But if you ask a diner if they would you rather see menu prices go up fifteen percent so that servers can make a liveable wage, that's something they don't even really want to consider."
According to Lynn, Eatocracy's poll doesn't accurately reflect diners' real tipping habits. "Very few people walk out without leaving a tip," Lynn says. What people say they tip and what they actually leave behind are very different, Lynn says.  "The weather outside has as much of an influence on tipping as does the level of service," says Lynn. The professor has tracked thousands of restaurant tabs for a trend in tipping. According to Lynn, "less than two percent of people stiff the server."
Though that may be true, servers earning less than minimum wage can be the unfortunate recipient of a zeroed tip, with or without any explanation from their guest. Working for tips requires subjective performance reviews from customers on an ever fluctuating, minute to minute basis. Front of house staff at restaurants work in a  financially tenuous situation that no other industry's employees have to bear.