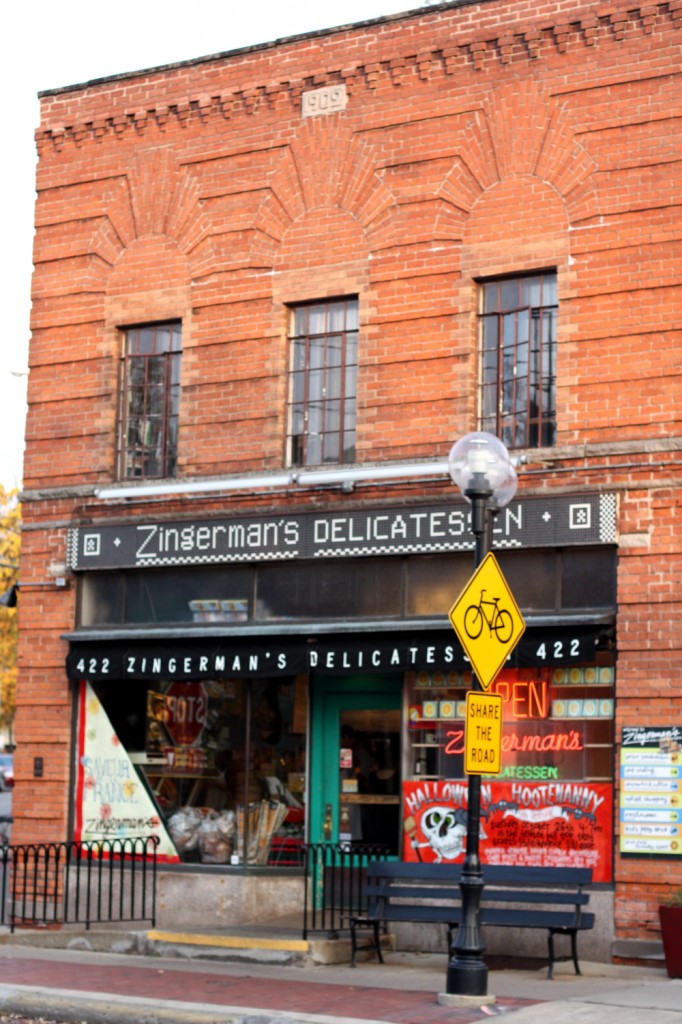 Some people go to churches for inspiration. Others go to shrines, nature, the farmers market, or a synagogue for a higher message. For me, mecca is a tiny delicatessen in Ann Arbor, Michigan named Zingerman's.
I never expected to find bedrock inspiration from inside a humble brick deli with crooked wood floors. But ever since I took my first step inside the tiny footprint that is the deli, being there feels like I've been given a triple dose of hope. Within the overstocked walls of the hundred-year old building, there are employees who smile and gush about the products, and practically jump through hoops in order to please each and every customer. These employees—cherry cheeked teenagers, college students, young mothers, sisters and brothers, and gray haired men in bandannas–exhibit the kind of enthusiasm that one expects to see from the chorus of a big stage musical, just before the music starts.
They don't serve Kool-Aid, but they'll sample you on any product
At any of the Zingerman's Community of businesses (or ZCob for short), the senses are bombarded. Colorful signs, packed shelves, freshly baked breads, and deli cases are filled with cheese and meats so appealing they have the power to make just about any food lover blush. With just one sample taste and an engaging description by an enthusiastic employee, many customers find themselves feeling the positive effects of the place. They loosen up. They smile. And, unsurprisingly, the soothed customer happily hands over piles of cash for a jar of wild flower honey, preserved lemons from Tunisia, the loaf of deli-sourdough, a chunk of Italian Pecorino, a vial of garum (an Italian fish sauce), a bar of chocolate imported from the Ecuador, and a buttery/spicy olive oil. Items that just moments before the customer had no idea they really, really wanted.
Look, if you've never been to Zingerman's Deli, Creamery, Bake House, Mail Order, Candy Manufactury, Roadhouse, or Coffee Company in Ann Arbor, then you might think all of this positive work ethic stuff might sound a little bit hippy dippy. The thing is, there are no camp songs, no hokey character outfits that everyone is required to wear, and no corporate brainwashing. It's simply a place where art and commerce meet and happiness and profit are friends.
Business, Free Will, and Bottom Line Change
There are few organizations in America where coming to work is fun, efforts are rewarded, and each individual's contributions to the organization are not only valued, they are required. At ZingTrain, the training branch of the company that specializes in teaching the systems and philosophies of the company, they give seminars that teach the philosophies of servant leadership and out of the box thinking that can lead to a happy work environment and successful business. After years of admiring the business from a far, I finally got the opportunity to go to Zingerman's to take a two-day workshop with the nice people at ZingTrain that would allow me concentrated time and training into how Zingerman's does the Zingerman's thing.
With my fearless leader (my boss) by my side, we took the red-eye across the country in order to get in a day's work and still be early enough for the first hour of our two-day leadership seminar. Our goal: to learn how to improve our leadership skills and better my service training programs. By the time we left, we had an expanded point of view, hope, training techniques that I could use to help improve the restaurant, and key tools to help our restaurant be even better.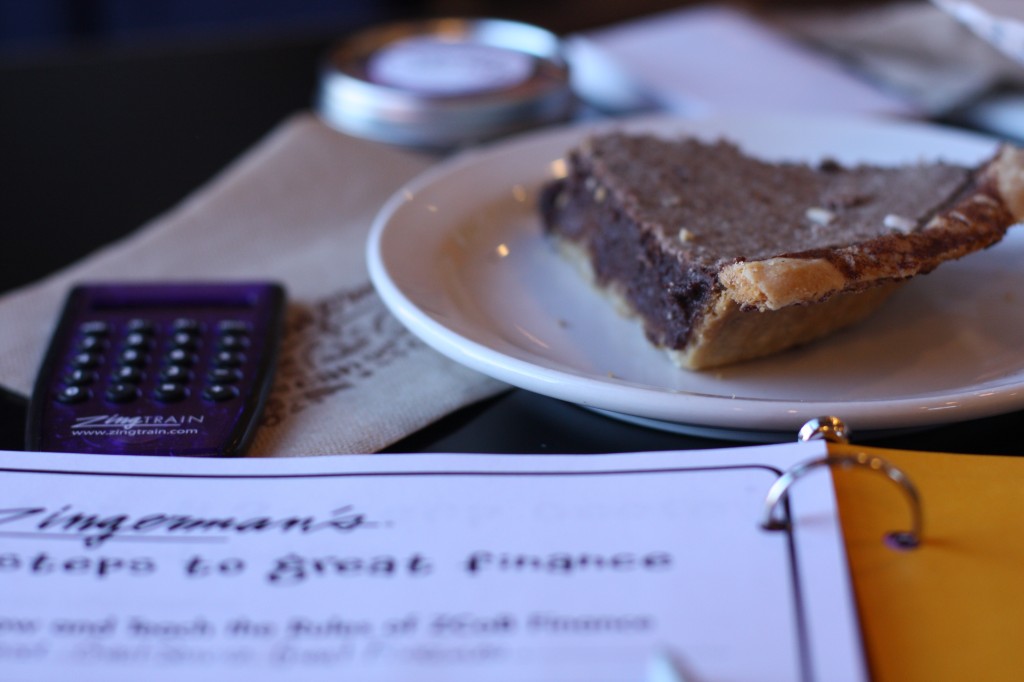 Somewhere between day two of our training and the few hours before our plane was to depart, something changed. My boss and I began to have that familiar feeling akin to what millions of Deli customers perceive after they get a taste of a specialty food item pulled from the shelf of the deli–we really, really, really needed more of it. My boss and I felt the power of possibility and the hope that we really could effect beautiful change at our restaurant, but we still needed a little bit more coaching…
And that's about when we decided that we should stay, sign up for another ZingTrain workshop on Open Book Finance,  and do more work at Zingerman's. In an instant I knew I had to trade in my plane ticket, put my life on hold, wear the same three outfits for over a week, step away from a week of blog posting, and stay in Michigan, come what may.
I suppose all this shuffling around of scheduling and plans wouldn't be so extraordinary if I didn't tell you one important part about me: I'm terribly afraid of numbers and math. Changing my life around for a finance workshop is not my kind of thing.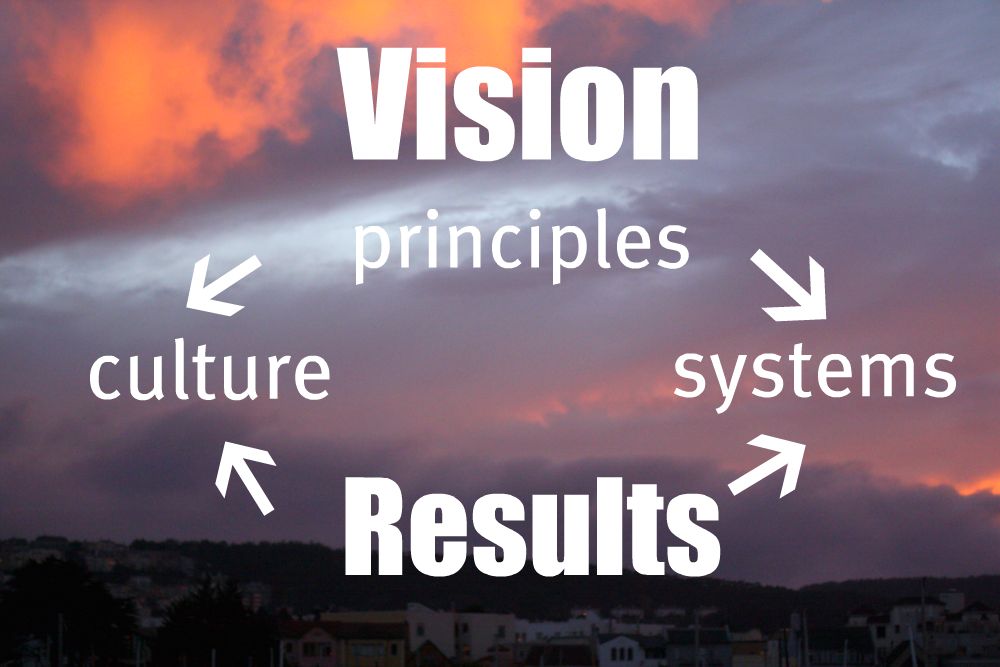 "It's not the world that's changed, its me."
In order to accomplish anything good in the world, you have to be clear on what it is you want to do. In the words of so many wise people, in order to get what you want–be it in business or in life–you have to have a vision. Without that view of the road before you, there is just no moving forward in an elegant way. So before the class really even started, Ari Weinzweig (co-founder of Zingerman's and CEO) and Stas' Kazmierski (Managing Partner at ZingTrain) took their time to define what a vision is and how to build it. These tools, I quickly realized, could apply to everything I do in work, in this blog, and in my life.
After just two days, I could feel something shifting in me, like my DNA un-spooled and realigned into a much more graceful structure. Ask any person who has ever been in the presence of someone or something so inspiring they decide to be bold, more fearless, or turn everything around and be more simple–regardless of the form of transformation, something shifts.
How this change occurs exactly is difficult to pin point. Maybe it's just a word that turns it all upside down. Sometimes there are anecdotes or tiny moments that can help track back to the spark of all this transformation. Other times—especially if you're in business–bullet points bring you to the most important factors.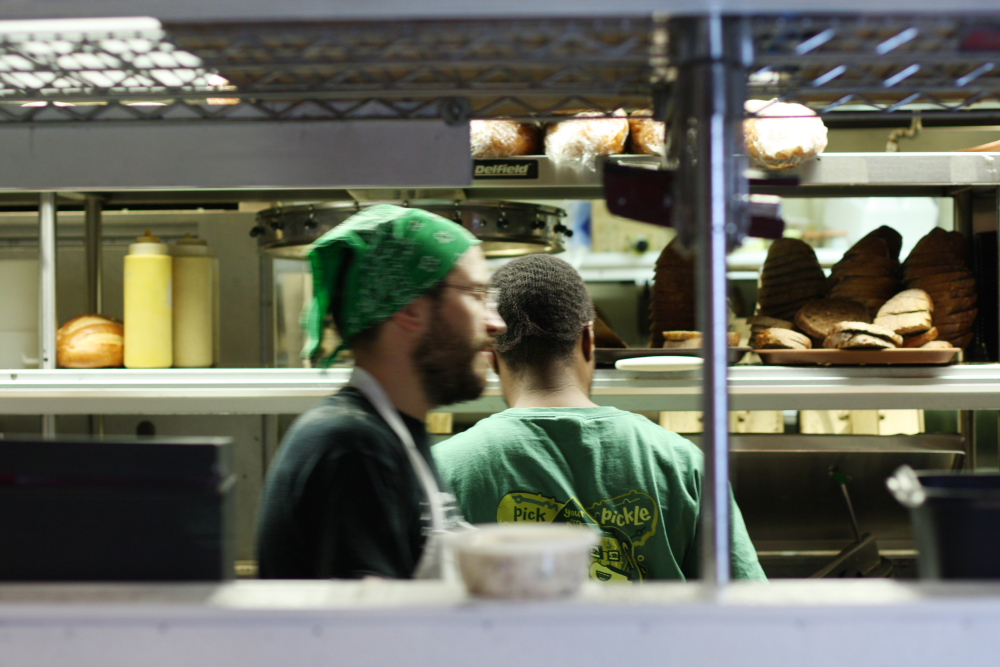 Get a Vision
More than anything, what I learned how important it is to have a vision. A vision helps you get clear of the direction of where you want to go (be it in business or in your personal life) and helps you stay on track. There's no way to move forward and do good things if you don't know exactly where you're going. Oh and it's easier to make the vision of what you want come true if you get yourself around the right people (mentors and touchstones).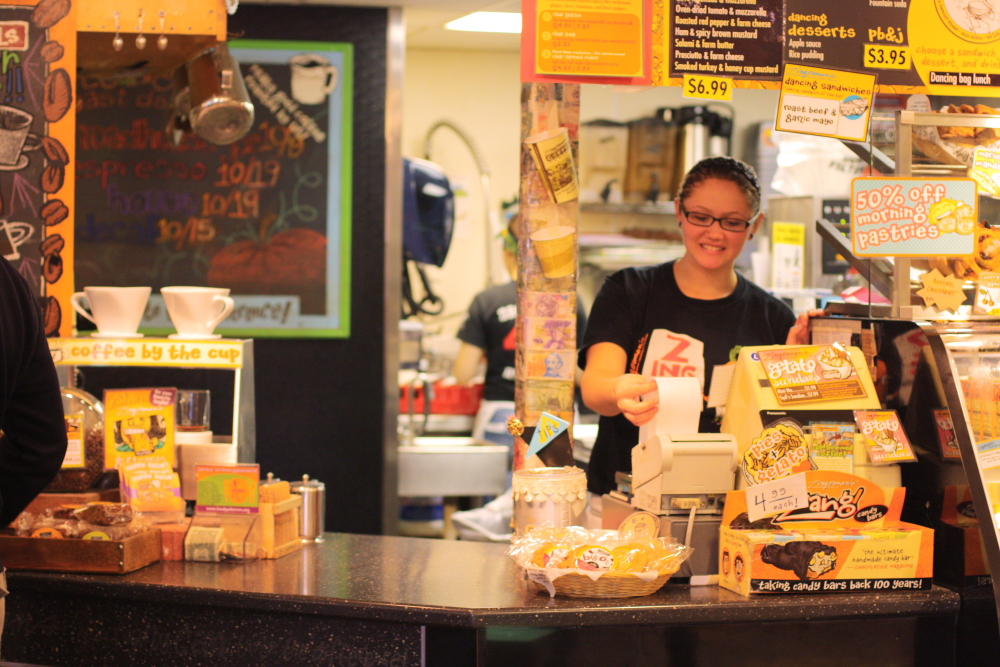 Stay Positive
Whether or not you believe in a spirit within all of us, there certainly is energy. You can feel it when a waiter you've never met before steps up to your table to take your order (and they're in a bad mood) and you can read it when walk into a restaurant where things aren't going right. Positive and negative energy is something we are aware of every day and we need to be mindful of when we seek to lead or influence others.
Whenever you're feeling like your energy is down or your day is heading into the trash can, do three nice things for someone else (your co-workers or family).  The act of doing something good for others has a way of turning your bad mood around.
Accept and Acknowledge Free Will
Just because you have a great idea, doesn't mean everyone wants to know or understand it. When you want to teach someone something, you should make sure that you give that student or employee one hundred percent of your effort to teach them, just as they need to give you one hundred percent of their effort to learn. You can't force someone to learn something they don't want to be taught.
You might have something great to say or powerful to teach, but the effectiveness of that training hinges on the agreement of both parties to be engaged in the process. You can teach a person how to use a fishing pole, but that doesn't mean they will fish. It's up to them. It's all about freedom of choice.
Though I would love to tell you everything I learned, why short change you of all the great history and insights that can be found at Zingerman's or in any one of Ari's books? If you wanted to learn more you'd ask, right? You are in charge of your own destiny, yes?
So rather than bore you with my descriptions and thumbnails of what I learned, I'll direct you to the source so you can find your own truths. Ari Weinzweig's newest book, A Lapsed Anarchist's Approach to Building a Great Business (Part one in the Zingerman's Guide to Good Leading) is, for many who have already read it, an eye-opening exploration into a different way of looking at building business.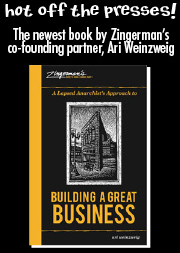 In it, he shares his insights into his company's corporate culture, stories of where he got his political philosophies (he studied Russian history at the University of Michigan and found great inspiration from early, turn of the century anarchists like Emma Goldman) and other eclectic influences on his successful, multi-million dollar business. Through a series of informative essays, he offers up details on how one of the biggest little businesses in America today got where it is today.
It's good to be home. Now let's get down to some real time visioning.