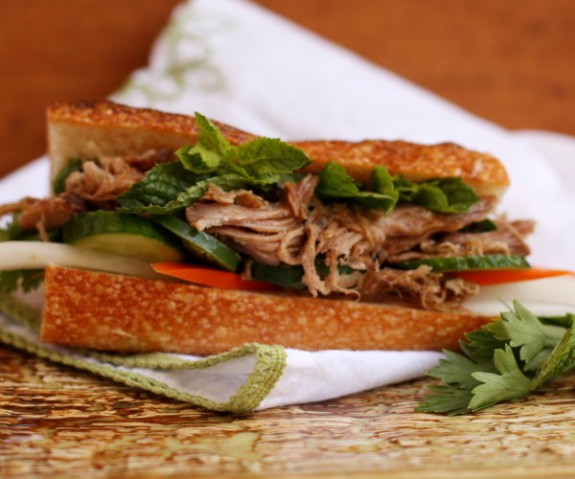 Certain foods elicit recollections of childhood, others conjure up the essence of loved ones. Rare though, is a flavor so particular and influential, the act of consuming it has the power to alter the course of the eater's life. Turning point foods are those that not only evoke an eater to remember, it defines the eater. So it is for me with Banh Mi.
I never expected a spicy Vietnamese sandwich called Banh Mi, would have the power to delineate my life. And yet, the simple and ultimately complex sandwich—the result of a tumultuous relationship between the French and the native Viets—has lead me to a whole new culinary realm and brought me significant friendships I will cherish forever.
My first taste of Banh Mi was a wake up call from the fiery spirit of a Vietnamese muse. I was living in New York City during a sweltering summer and working as a General Manager and consultant for a soon-to-open restaurant under construction in the Lower East Side. Despite the fact that I was new to the vibrant city, and lived in the heart of a new food mecca (Katz's Deli, Russ and Daughters, Stanton Social), I lost myself to 16-18 hour work days. Rather than cherishing the opportunity to experience a new city, I poured myself into every passing minute at the restaurant. I was missing everything.
That's when Banh Mi stepped in to kick my ass.
I stole a quick bite of my chef's lunch from Nicky's Sandwiches and was stopped cold. Fresh jalapeno, cilantro, mayonnaise, pate and pickled daikons and carrots arrested my senses. That single bite gave me a flavor bitch slap that told me to PAY ATTENTION!  I closed my eyes, shut out the noises of the hammers, and tasted. The flavors of banh mi were fresh, clean, spicy, and filled with great texture. My body hummed like a tuning fork.  I stared at the simple sandwich with shock. What was that?
That–I later found out–was a paté Banh Mi, laced with hot Jalapeno, mayo, and cilantro. Eating that sandwich (and subsequent ones after) taught me that no matter how hard I might have to work in the restaurant business, I should never be too busy to pay attention to the food culture around me.
Act two, Banh Mi in LA

A few years after returning to LA and getting a little off my life path, I decided to dedicate myself to the idea of marrying my love of writing and food together. I began this blog, and soon after an undeniable craving overtook me. I needed Banh Mi.
With my Vietnamese muse beckoning, I researched, tested, and created a Five Spice Chicken Banh Mi I could make at home. I posted the recipe here on this site and watched with awe as readers from all over the world began reading my site. Soon after, I received an email from a couple in Orange County. Their names were Todd and Diane, and they had a little food blog called White on Rice and a little side projected called Battle of the Banh Mi. Would I be interested in having my recipe linked to their site?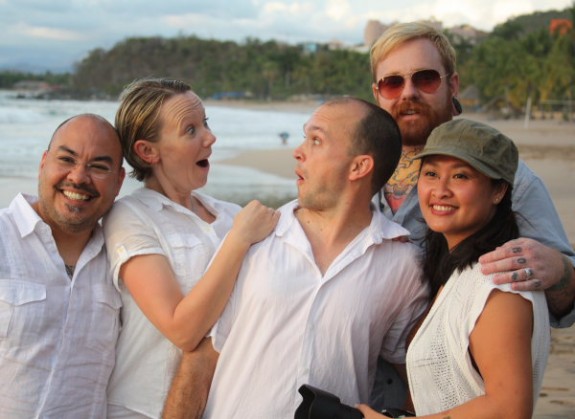 I said yes, and soon after, we met. The rest, they say, is history. The day I met Todd and Diane (and Matt, Adam, and a slew of other incredible bloggers) was the day I knew I had finally found my people. My people sparked my curiosity, stoked my passion for writing and for food, and generally made me want to up my game and be a better artist.
Now, every time I take a bite of Banh Mi I celebrate. Who knows what great things that next sandwich might bring.
[print_link]
Vietnamese Banh Mi with Caramel Pork Butt
Serves 6 to 8 people
This sandwich requires some planning ahead, but once you have the meat in the oven (plan for an overnight slow roasting, or perhaps while you clean-the-house-do-chores-and-catch-up-on-reality-TV), you're pretty much good to go. Even if you're only cooking for two, I recommend making a large batch such as this, since you'll want to be eating the leftovers for several days to follow. I found the big beautiful piece of pork butt (or pork shoulder) at the Hollywood Farmer's Market stall for
Jimenez Farms
, but most butchers should have this piece of meat on hand.
3 lbs Vietnamese Caramel pork butt (see below)
1 large fresh Vietnamese baguette *Vietnamese baguettes are traditionally made with wheat and rice flour. If you don't live near a Vietnamese bakery, I suggest finding a fresh baguette with a crunchy exterior and soft insides.
1 cucumber, peeled and sliced
2-4 Jalapeno, sliced
jar of home made pickled daikons and carrots (see Previous Post for Recipe)
Fresh mint
Fresh Thai basil
Fresh Cilantro
Several tablespoons of mayo (plain or with a dash of Sriracha for a little extra kick)
1/2 cup Nuoc Cham (see below)
Slice into one side of a baguette. Spread mayo inside, then fill with pickled daikon and carrots, sliced cucumber, fresh mint and thai basil leaves, and as many Jalapeno slices as you dare consume. Add the meat. Drizzle with a little Nuoc cham. Top with fresh herbs.
Before serving, slice the baguette up for several smaller sandwiches. Serve with bowls of Nuoc Cham for dipping the sandwiches into.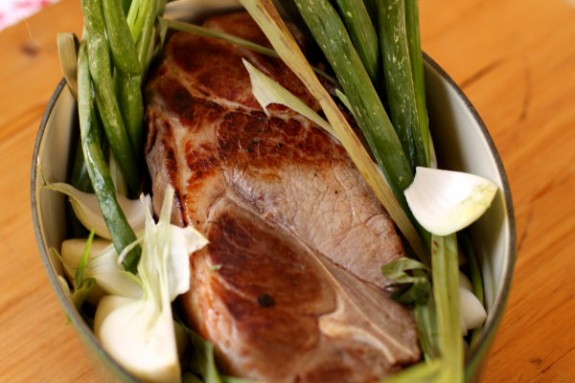 Low and slow Vietnamese Pork Butt
3 lb. Pork Butt
One bunch of lemongrass leaves (all green tops)
3 small onions, quartered
3 or 4 sprigs of Thai Basil
1 tablespoon olive oil
1 cup white wine
4 tablespoons Vietnamese caramel, or Nuoc Mau (See recipe on previous post)

8 tablespoons Nuoc cham
2 tablespoons soy
Preheat the oven to 250˚
Heat a skillet up until the meat sizzles when it makes contact with it. Quickly brown the pork butt on all sides. Transfer the meat to a slow cooker or Le Crueset dish. Surround the meat with the lemongrass leaves, thai basil, and quartered onions. Cover the meat with tinfoil and place in oven to cook for several hours. The meat will take approximately 6 or more hours to bake at a low temperature (that's two hours for every pound of meat). After the first hour, add a cup of white wine to the braising liquids. Spoon the liquid over the top of the meat. Re-cover and return the meat to the oven. Repeat the basting process approximately every hour, if possible.
Upon the 6th hour, check the consistency of the meat. Does the bone slip from the pork butt with ease? Does the meat need more time? Do you like slightly crunchy/crispy pulled pork? If so, remove the cover/tinfoil from the cookware and let the meat crisp up. Remove the pork from the oven when it easily shreds and has a soft, pliable consistency.
Remove the pork butt from the braising liquid. Let cool. When the meat is at a reasonable temperature for you to pull the meat apart with two forks, do so. Add to the meat the caramel sauce, soy, and Nuoc Cham into the pulled pork.
Vietnamese Dipping sauce (Nuoc Cham)
Based on a recipe from Mai Pham's The Best of Vietnamese and Thai Cooking (Prima Press).
2 small cloves of garlic, sliced
1 teaspoon of ground chili paste
1 teaspoon of Sriracha
¼ cup fish sauce
2/3 cup hot water
Juice of one lime (2 tablespoons)
¼ cup sugar
Place garlic and chili paste in a mortar. Muddle until the mixture becomes a paste. Combine garlic chili mixture in a small bowl with the remaining ingredients. Stir unti the sugar has dissolved.
Pickled Carrots and Daikon
See my previous Banh Mi post for directions on how to prepare the pickled carrots and daikon.