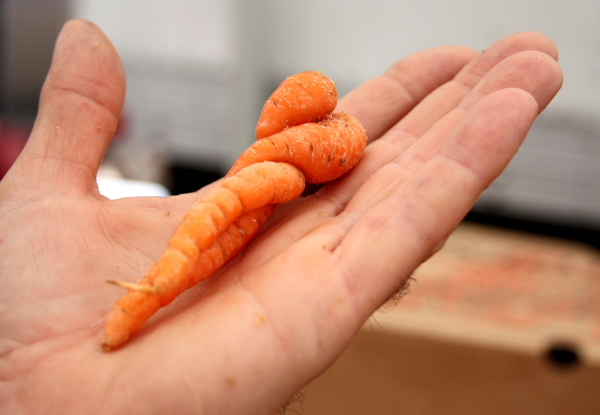 A wonderful thing happened. My husband started cooking.
The change came about a month ago. It began with breakfast. While I dressed for work he'd slip into the kitchen and brew a pot of our favorite organic coffee and construct a delicate egg white omelet with spinach and goat cheese. When I emerged from the whir of my early morning rituals—hair drying, make up application, multiple outfit changes—I'd find a folded cloth napkin, a perfectly doctored coffee, and a plate of comforting food waiting for me. On mornings when our window of time together was brief, he'd surprise me with a thick slice of bread dripping with melted butter and apricot jelly. I barely had time to notice he had perfected the careful balance of sweet and savory in the fruit smoothies he'd slip to me as I headed out the door.
I started to see a pattern of culinary devotion as he began adding lunches to his repertoire. Rather than visit our usual neighborhood lunch spot, he'd serve us decadent open-faced turkey burgers he grilled that were draped in a blanket of melted cheese or a thick slice of over-ripe persimmon. He'd peel an orange and have it waiting for us when we found ourselves at that inevitable point of the meal when we started to crave something sweet.
Then came dinners. I marveled at his grilled fish on a bed of Israeli couscous with thinly sliced lemons. On another night, he sautéed perfect squares of halibut with a spiced rub and a spicy yogurt sauce with fresh mint. Then there was the time he roasted a whole bird he bought at the farmers market with muddled fennel seeds and thyme.
After those meals his kisses never tasted sweeter.
With my husband at the helm of our kitchen, I've begun to relish the stacks of dirty mixing bowls or the skillet that needs a good soak. Because with every food-stained plate comes a piece of the story of what he learned in the kitchen.
I didn't think it was possible, but every culinary tale makes me love him a little more.When you love the art of making a meal, the kitchen is a hallowed spot. It's a place where you can learn simple and profound things. It's a room where bellies are filled, hearts can be mended, and love letters are written within every meal.
These unexpected meals have been the best Valentine's Day gift a woman like me could ever receive.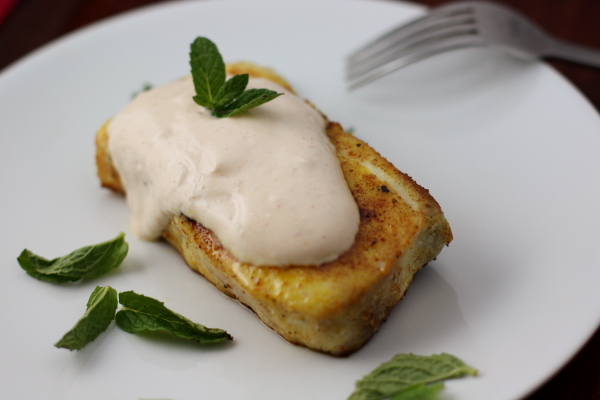 [print_link]
Grilled Halibut with Indian Spices
Inspired by a recipe from David Tanis' book, A Platter of Figs
When you work in the restaurant business, Valentine's Day is a day to work and make some money. When my husband stepped into the kitchen and cooked this dish it confirmed my belief that every day should feel like Valentine's Day.
1 teaspoon cumin
1 teaspoon fennel seeds, muddled in a mortar and pestle
1 teaspoon paprika
½ teaspoon black pepper
¼ teaspoon brown sugar
¼ teaspoon kosher salt
2 halibut fillets, about 6 ounces each
Spicy Raita*
a handful of mint leaves
Pat dry the fish. Lay the halibut on a baking sheet and season with salt and pepper. Drizle with olive oil. Sprinkle just enough of the spice mixture over the fish to give it a light dusting. There may be some additional spice mixture left over. Briefly massage the spice blend into the fish. Cover with plastic wrap and refrigerate for a few hours. Bring the fish to room temperature before cooking.
Grill the fish on a charcoal grill over medium coals for 3 minutes per side, or just until the fish is opaque throughout. Or if you prefer, cook in a skillet over a medium flame being careful not to over cook the fish (about 3 minutes per side).
Arrange the halibut on a plate and top with a hearty dollop of the spicy raita. (Offer the remaining raita in a serving dish for people who want extra.) Top the fish and yogurt sauce with the fresh mint leaves. Serve immediately.
*Spicy Raita yogurt sauce
1 cup Greek Yogurt (I recommend Chobani*)
1 tablespoon olive oil
1 garlic clove, chopped
½ teaspoon cumin
2 tablespoons Harissa
a pinch of salt
Mix all the ingredients with the yogurt in a bowl. Taste for seasoning. If you like a spicier sauce, add more Harissa.
*Chobani sent samples of their product to play with. I did not receive payment for developing recipes.