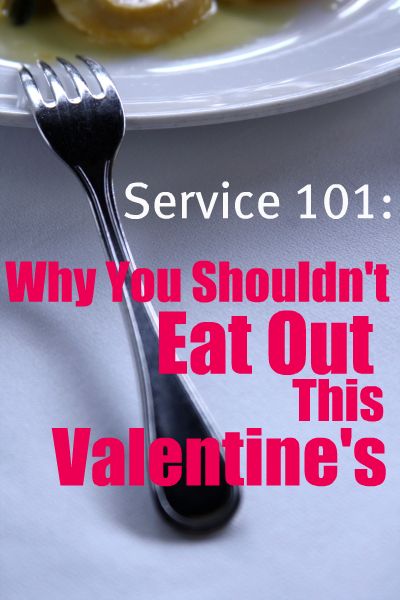 Valentine's Day, Mother's Day, New Years, and Christmas Eve are calendar dates that mark a time when many Americans believe they must experience something extraordinary and enjoy a high level of pleasure. These are the nights when many people wish that their lovers could be more generous, family members were less annoying, life's pressures could be forgotten, and they could be appreciated for their good taste.  Consequently, there are few nights that book faster in a restaurant than on these high-pressure holidays. Despite these hard economic times, lots of people would rather spend half their paycheck on dinner than get yelled at for making a bland/overcooked/disgusting meal on such an important night.
But on these four holidays, flawless food and impeccable service is not enough.
Though I am a server–a person that makes a living off of the tips and hourly wages I collect–I do believe that these high expectation holidays require careful planning and realistic goals. For this reason, I suggest diners stay home on these high-pressure nights, take control of the situation, and cook for themselves.
High Stakes Dining
The diner that books a holiday reservation—regardless of whether or not they are aware of it—have an elevated expectations that are nearly impossible to obtain. Every dish must be gorgeous, balanced, tasty, and offer revelatory flavors. The ambiance should be enchanting, but not too distracting. The service must be attentive and friendly, but not too present or too hands on. More than anything, the diner imagines, the dining experience on this night should elevate this special moment. Good times must be enjoyed by all.
With expectations this high, it's no wonder so many people walk away from their dinner reservation disappointed.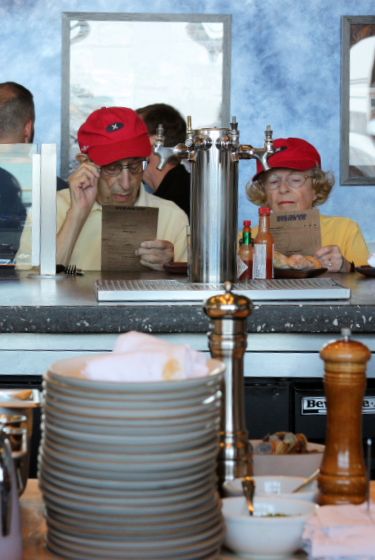 Restaurants Can't Be All Things To All People
It's not wrong for diners to expect a great experience. But a restaurant—even the best ones—can not be all things to all people. Catering to diners' obvious and unspoken requirements is riddled with internal conflicts. For example, should the 6 PM dinner reservation that lingers significantly longer than they were budgeted for, be asked to leave so the 8:30 dinner reservation can be seated on time? To seat one party late or to ask another to leave creates unavoidable disappointment, resentment, and anger.
One person's favorite soundtrack can be another person's worst play list. Low lights may be romantic for some, but for others a dark room can mean not being able to read the menu or see the person across the table from them. A dish with rich sauce may be what one diner craves, but for another, that cream sauce might be responsible for an aching belly. No restaurant with a clear style and set menu can cater to every person that walks through the door.
Take the Unhappy Couple, for example. Every Valentine's The Frustrated Guy makes a reservation in hopes that somehow this one dinner will—perhaps for just a moment in time—allow him and his Disenfranchised Date to be happy.  Unfortunately, the expensive entrée and a decadent chocolate dessert at the uber-popular restaurant (no matter how good it is) can not eradicate frustration and disappointment from their relationship.
And what about The Happy Couple that wants to eat out on Valentine's Day? Surely the content diner can enjoy a Valentine's night at a restaurant. True. Many do. But often it's these Happy People that see beyond the drooping red rose on the table, the strained smile on the server's face, the high price tag of a "Special Valentine's Menu", and the dining room packed with demanding diners, and walk away from their dining experience feeling slightly disappointed.
Manage Your Valentine's Day Expectations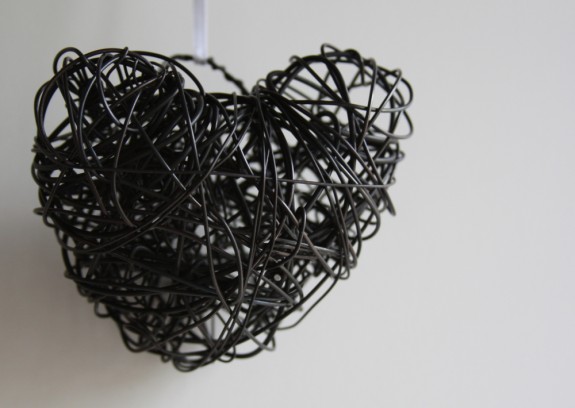 What better way to manage expectations than to take control of them? You know what you like and what your loved one(s) appreciate. With your love as a muse, visit the local farmers' market, butcher, or seafood shop to buy their favorite seasonal ingredients. Come up with a meal that celebrates a favorite moment, a beloved flavor, or a much-loved ingredient.  Set aside some weekend time to go shopping for special ingredients, buy a handmade gift (like this heart-shaped wire sculpture I made) or a bouquet of flowers, and a great bottle of wine.
Since Valentine's Day lands on a Sunday this year, there's really no excuse why you shouldn't make dinner for your special loved one(s).  Turn off the lights, fire up all the candles you have, and put on your favorite music. If you need extra time in the kitchen, begin with a gorgeous cheese plate. Embrace easy, big impact dishes. Start off with prosciutto-wrapped scallops with Meyer lemon relish. Warm things up with this easy-to-make entree of coffee-braised short ribs. Seduce with these decadent and no-fail chocolate pots de crème.
Why you should make your own Valentine's Day Dinner
Nothing says I love you more than taking the time to make a special meal for the person you love.
Because you can control every element of the dining experience. You choose the lighting, music, menu, and decorations. No need to worry about cheesy love songs, or a perfume-soaked lady sitting next to you.
If You Insist on Dining Out on Valentine's Day:

Book your reservations in advance.
Know your date. Don't take a vegetarian to a steak house.
Consider your budget. If you think $35 is too much to pay for an entrée, don't book a reservation at a restaurant that serves $35 entrees. You'll be disappointed.
Don't double book. If you must hedge your bets, be sure to cancel your second reservation as early as possible. There are plenty of people that would love to take your reservation.
Show up on time. And please, be respectful of your reservation and fellow diners and don't linger at the table for more than 2 hours.
Use "Please" and "Thank You's" as much as possible. Good manners go a long way to impress your date and will make for a more pleasant dining experience.