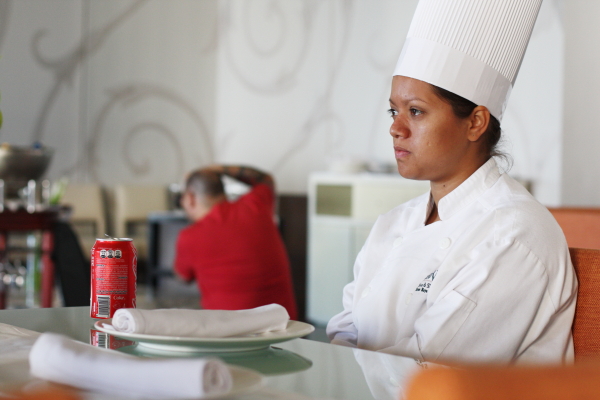 Even though this blog is about the food industry, it's also about exploring the world behind food. Past the great meals, restaurants, the work, and relationships with talented chefs–there's the deep stuff that goes on between meals that's vulnerable and important.  The more I write about living a life in the service industry, the more I understand that all this service stuff has some pretty profound lessons to teach. I'm beginning to understand that at the core of the service industry are some fundamental truths that apply to just about everything. Life is all about service.
So I guess I shouldn't be surprised that I've been dreaming about service lately.  These aren't the old fashioned anxiety dreams about restaurants that never close, or tables that never get taken care of. The dreams I'm having are more like intensive courses in philosophy that show me the meaning behind service. So I guess you could say I'm tapping into something bigger than me.
I think I might be onto something. Because here's the thing, when I woke up from an intense nap the other day, I felt like I had been given a gift. While I was sleeping I got a message about what life is all about. And the message was pretty simple.
The key to life is service.
The dream had me buzzing for hours after I woke up. I felt a gentle and purposeful nudge that got me to the computer and compelled me to write–despite the fear that maybe you wouldn't understand what I needed to say. Despite several drafts and the desire to delete this whole thing, I feel the need to tell you what I learned. Because I think this could help a few people.
What the heck does the key to life is service mean?
The key to happiness is service doesn't mean everyone should drop what they're doing and start waiting tables or work in restaurants. What I think it means is that no matter what you do for a living, it's good to remember that at the core of what you do is service.  Your work may feel like it's to produce a certain product on time or deliver a specific kind of service in a reliable way. But the real truth is, your work is to serve the needs of someone else.
By definition, to be of service means one must actively help another or do work for someone else. So, regardless of the end goal or result of your personal work, everyone's job hinges on an idea or a process to aid others. No matter what you do for a living–be you a scientist, an architect, a rock musician, a banker, a fisherman, a politician, a medical professional, a parent, or a baker, you name it–your role is to help people. Being of service should be the reason behind everything we do.
Whether or not we're aware of it, we're all in the business of being of service to one another.
I think the reason why so many of us are unhappy at our jobs is that we've forgotten this piece of the equation. In the rush to get our work done, we by-passed the primary goal of our work. Rather than keep in mind that our goal is to make other people's lives better in some small or meaningful way, we focus on the minutia. Deadlines, emails, conference calls, technology, difficult bosses, co-workers that get on our nerves, and long hours take our focus off the true end goal and rearranges our priorities.
We make getting through our day our goal. Or surviving a crazy boss. Or making good money. Or creating a certain thing that pleases only us (everyone else be damned!).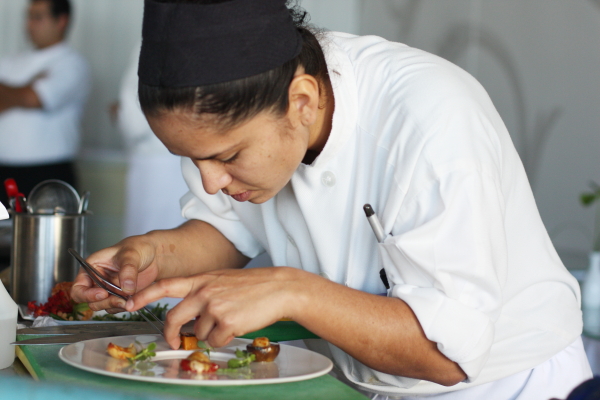 But when we actually take the time to put others' requirements before our own, we get an opportunity to step away from the internal chatter of what we need and get to something else. We get to something better. Not only do we find success, we find a new kind of happiness. I'm sure you've experienced one of those extraordinary moments of service at your job. It's the kind of thing that stands out when you spend your days in a cubicle or in a chaotic room full of customers.
A great moments of service starts simply. You do your job and then, for some inexplicable reason, you go the extra mile for someone. You do something extra nice for a co-worker.  You give generously of yourself (with a peaceful humility that comes so easily it even shocks yourself) to a client or customer. You do this thing not because you have to, but because you want to. You do this great thing at work because it feels right.
And then it happens. A stillness comes over you. The mind clears of useless, back-talking chatter. You feel a lift. You feel happy. For an instant, you feel free. You want to do a victory dance.
This is what living a life of service is all about.  The more you give, the more you get.
If I spend all my time looking out for everyone else, who's gonna look out for me?
Being of service is a difficult thing. Believe me, I know. It's been my job for almost twenty years.  It's not impossible to find myself surrounded by people with big egos and angry hearts who will do wildly cruel and devious things just to mess with me. The people who like to make others feel small to boost themselves up are the biggest challenge to the practice of mindful service. Because being of service to jerks, blowhards, meanies, and self-obsessed people makes the proposition the key to life is service seem impossible.
But the reason why I think it's important to share with you this idea of being of service to others, is because I think it really is the key to finding happiness. The key might be simple but the act of using it is hard.
Here's the thing. Ever since divine inspiration came to visit during nap time, I've noticed I've had more and more opportunities to do little things for other people. Whenever my thinking gets chaotic or my motives seem to be a little off, I jump into action. I put aside my fears, concerns, and mind chatter and remember to put my focus on service.  Rather than mope or feel bad for myself, I open the door for strangers. I greet fellow joggers good morning as I pass by them on my run. I pack snacks for my husband before he goes to work. I call friends and listen to what's happening in their lives (rather than complain about mine).
And you know what? Being of service to others makes me happy. Really happy.
The more we give ourselves, it seems, the more we get. I'm starting to realize that the act of being of service to others is like making a deposit in someone else's bank account and still getting dividends. I'm not sure what kind of banking system that's called, but I like the way it works. Being of service to others is an investment in our future happiness.
I had a dream
I had a dream, and in it I saw what the world could look like if we all worked for the happiness of others first. It was beautiful.
So thank you for sticking around and reading these words. I really appreciate you taking the time and reading this stuff. What you're doing is being of service to me and I appreciate it. I hope it gave something back to you in return.
How has the humble act of taking care of another person's needs before your own made a difference in your life?
Do you have any great stories of service you'd care to share?