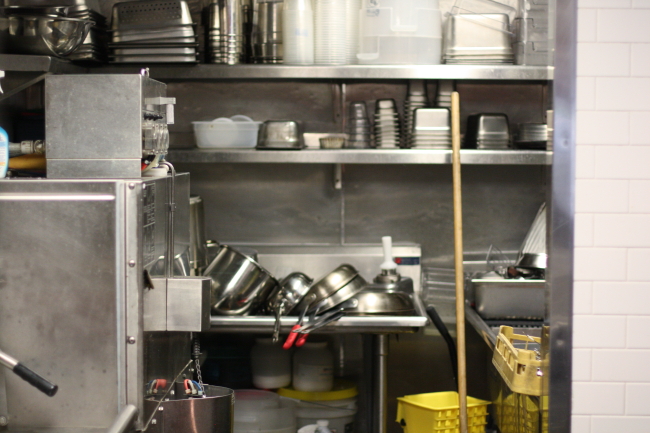 We live in a time when new is a marker of cool. In Los Angeles, the newest restaurant on the block often trumps well established culinary landmarks–not necessarily because of the quality, but for the newness of the food and the scene.  The fickle dining public swarm to what's new and eat through the menu until they have reached overload and the place becomes "played out".
The rush to stay current often comes at a cost, since most trend-seeking customers have very little patience for growing pains. Even well-respected chefs who bring along with them their own built in audience, require time and an extreme amount of effort to work out the kinks. Opening a restaurant is hard. Going to a new restaurant is challenging. Customers and restaurateurs need to keep an open mind in the first six months of business.
Take for example a restaurant opening I was a part of a number of years ago before I was a consultant. The city of Los Angeles buzzed with excitement as a well-regarded chef's prepared to open her third restaurant. The restaurant was speculated about in the city's gossip rag (Eater LA) more than a year before opening.
Behind the scenes, a famous designer and architect was brought in to create a lush dining room from the shell of a worn out culinary landmark. The chef created new dishes and groomed hungry new cooks for lead positions. Management staff worked tirelessly day and night to hire a great staff, stock the shelves with the best china, flatware, sparkling crystal, and bottles of the best liquor and wine. Service staff trained for weeks on the culinary history of particular dishes, memorized detailed information on wines from around the world, and studied traditions of food regions in Europe.
As opening day approached, LA foodies speculated online about what the food would be like. High ranking Yelpers schemed how to snag a first night reservation so they could be the first to review the restaurant. Curious neighbors peered in through the curtained windows and pulled on locked doors.
The day the restaurant opened, men and women of all ages jammed the reservation lines. Fashionable movie stars and grown adults fabricated lies, elbowed their way to the front of the line, and dropped names in hopes to get the reservation they wanted from the host staff.
After months of non stop work, the team crossed their fingers and hoped that the night went as well as they hoped. The dining room was electric with anticipation as waiters in crisp white shirts delivered the chef's newest dishes to the guests.  Plates flew from the kitchen as the brigade in white worked against time, sharp knives, hot plates, and exhaustion.
Several hours later, when the last dessert left the kitchen, the chef joined the management team in the dining room to measure the energy level of the room. Guests scurried from their seats to congratulate the chef.
Professional diners–men and women who rarely cook for themselves at home and eat out several times a week–gushed with praise and sprinkled well-intentioned suggestions of where the restaurateur could improve. The customers were giddy with ideas: how to re-design of the restrooms, what level the music should be played at, suggestions on what direction to take the business in (catering! delivery! even more expansion!), how to cook a piece of meat, just how much sauce should be poured over a certain entree, the correct measurements on a particular cocktail, and just how many bottles of wine from a particularly popular vineyard in California should be purchased.
When the doors were locked and the music turned off, the chef swore under her breath.
"I'm happy to listen to constructive criticism," she said. "Just as soon as any one of those people run their own successful restaurant."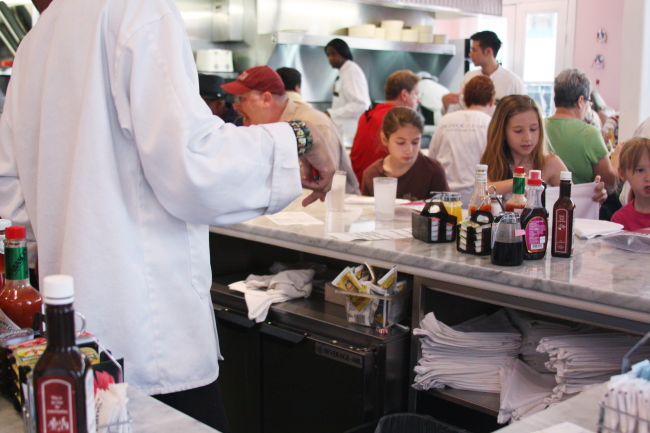 Doing anything on a large scale is difficult. Just ask anyone who has ever been a parent, a dog owner, a coach, a teacher or a leader of a large organization how difficult it is to keep a idealized plan on target with reality. Knowing where to be flexible and where to hold strong to an ideal is the mark of a successful leader and business person.
Keep an open mind
In order for new restaurants to be successful, customers–as well as owners–need to be open minded in order learn and see new perspectives. Many restaurateurs argue that just because a person eats out a lot doesn't make them an expert on how to run a successful restaurant. While this may be true, a restaurant savvy guest may have a valuable perspective or idea that could prove useful to the business owner. Shutting out all feedback from guests can be detrimental to the long term success of a business.
Conversely, customers who enter a new restaurant with fixed expectations for food, service, and atmosphere–regardless of the genre–factor themselves out of an opportunity to expand their horizons or learn new things.  Read Yelp reviews on a regular basis and you will soon understand that the people who judge a place before taking a moment to observe a business in action, tend to be incredibly disappointed and unhappy most of the time. Observing what it is the restaurant is doing before passing judgement can improve the experience of the customer in untold ways.
In a time when first impressions are extremely important in capturing return business, it's important for businesses to bring their A game. But customers should be aware that most restaurants take time to work out the kinks. Restaurant thrill seekers should enjoy the excitement of being a trail blazing guest, but in all fairness they should expect to be present for some of the early problems of a recently developed project.
As a restaurant consultant, I give insights into how to solve key service issues before the doors open on the first day. I give restaurant owners the chance to get a clear vision of success before they open their doors. I help teach how to get ahead of problems, solve issues before they happen, and have systems in place that support a growing and evolving culture of great service.