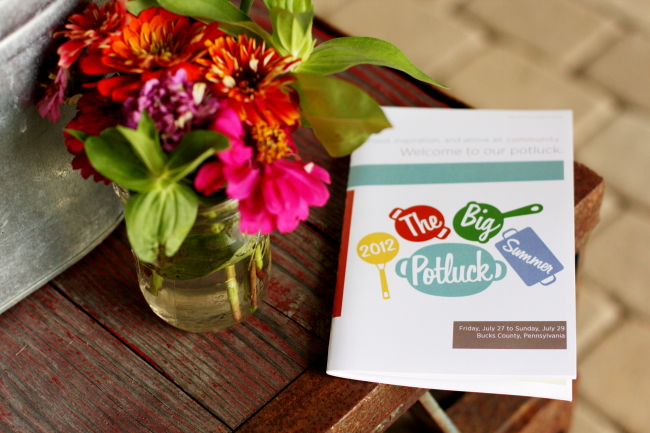 I've attended more than my share of food blogging events over the past five years.  I'm a veteran of icy cold air conditioned conference rooms, Power Point presentations about stats and SEO, and hallways filled with anxious participants who fear being irrelevant. I'm no stranger to food conference agendas, food vendor giveaway frenzies, the anxious shaking of hands, and camera/gear/gadget/logo/design/fashion/friend envy.
But at the Big Summer Potluck–a third annual gathering for new and veteran food writers, photographers, and recipe developers put on by my good friend Maggy (Three Many Cooks), her mother Pam, and the lovely Erika (Ivory Hut)–everything is different. The focus is on small and intimate. The food is simple and made by people you know (or will know) over the course of the weekend. Speakers like Joy (Joy the Baker, Molly O'Neil (Cook n' Scribble, and myself shared about what matters most in our hearts. Great food making demos from Marissa (Food in Jars) & Max Hansen offered attendees insights into invaluable techniques for canning and curing they can use at home.
Rather than focusing on technology or new frontiers of financial success, the retreat's themes were on sharing, vulnerability, honest work, and mindfulness. The location itself–at Silver Buttons Farm and the Anderson's secluded home in the Pennsylvania woods–invited frank discussion and forging of friendships.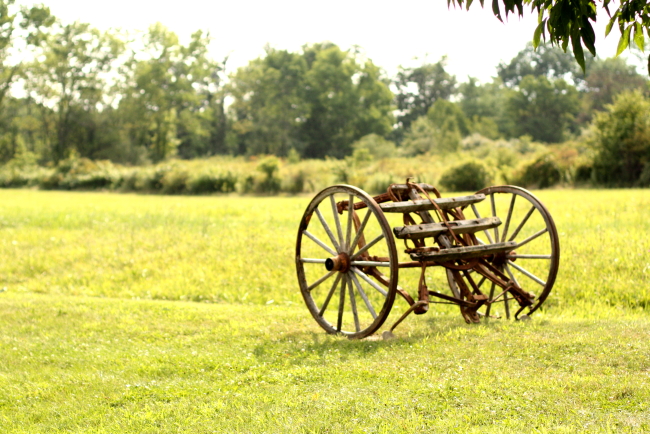 Thanks to the masterful work of the team behind The Big Summer Potluck, attendees felt safe enough to get honest. We opened up about the things that scared us and mattered to us most. We got still. We put away our cameras, stowed our iPhones, and spent time listening to each other, rather than running off to the next thing. We shared personal issues and realized we weren't all alone.
Mindfulness in a Digital Age
The theme of this year's gathering was mindfulness, honesty, and inspiration. As a group we spoke about the importance of spending more time being in the moment and less time steeping in fear of falling behind. We shared about secret resentments, jealousy of success or pretty pictures, and the drive we shared to stay busy on order to stay current and relevant.
The way most of us talk to each other at conferences, we are given a message that implies that we all may be seriously late for some big destination. If only we got a little more busy, update our gear, get to know the right people, and work a little bit harder, we will get there.
The problem is, the more we do, it seems like the less time we have.
During my talk on Mindfulness in the Digital Age, I shared about how early on in my blogging career, I lost myself in the constant stream of social media and self-imposed goals. In the early days of my blog, I immersed myself in the Twitter feed, Facebook updates, and online chatter. I busied myself with lighting, textured backgrounds, props, and photographing the food I made, rather than enjoying a meal. The old me focused on shrinking down insights to 140 characters, rather than sharing the broad strokes or little important points with my husband. I ate meals for content, not nourishment. I skimmed words, buzzed past difficult feelings, and rushed from one work assignment to another. In my former life, I rushed from place to place, rather than appreciate where I was in the moment.
But after two years of keeping my life fully submerged in social media, I began to discover I was losing my grip on what matters most. I wasn't living a present, conscious life.
It took me almost losing everything that was near and dear to me to realize that I was so busy DOING, that I wasn't present to who I was BEING.
Waking Up
Over the past year I've written around the serious stuff that's happened that's happened in my life these past few years. Rather than get too specific, I've spoken about what I've learned and how applying mindfulness has made a difference in helping me get back on track.
The writing process has given me the opportunity to apply something of a slow reveal, but honestly, the quiet pacing has also allowed me to guard myself from criticism or over indulgent ramblings. I've taken my time and minimized the details, for fear of hurting the innocent or scaring people away.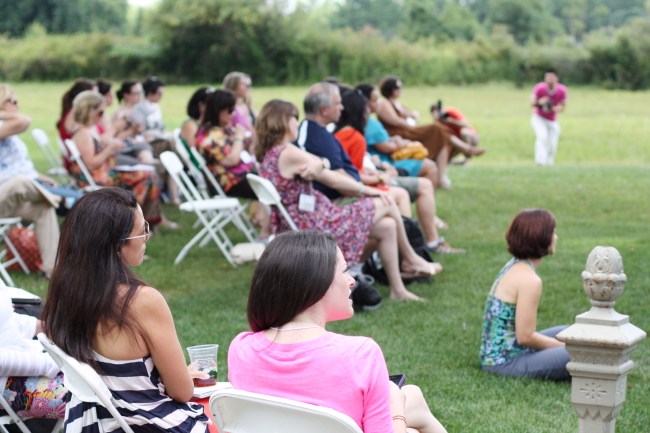 When Maggie asked me to share about Mindfulness in the Digital Age, I knew that I couldn't just talk in generalities. I needed to illustrate my point with personal anecdotes. I needed to open up.
I stepped up to the microphone with a simple wish: be present and be vulnerable.
Doing vs Being
When we lose connection to the present moment, we lose sight of what's important. For me, it took several years of full immersion in blogging, a drive to succeed, and an obsessive love of social media to lose sight of my relationship with my husband, myself, and my loved ones. I was driven by self-serving motives, selfish thinking, and unconscious behaviors.
I shared with the room full of social media peers how just before I lit the match to everything in my life and walked away, I stopped to take a look at what I was doing. I slowed down enough to breathe, to observe, and to get conscious.
When we slow down, we become more aware of the big picture stuff. We find access to inner wisdom that leads us to creative solutions and insights that can improve our personal lives and lighten our work load. Through mindfulness we can stop and see the wreckage we've caused and find ways to heal them. The more time we spend being conscious and aware, the more we begin to see that we have plenty of time to do what's important.
In the silence that remained after I walked away from the microphone, I was afraid I had allowed myself to be too open and vulnerable.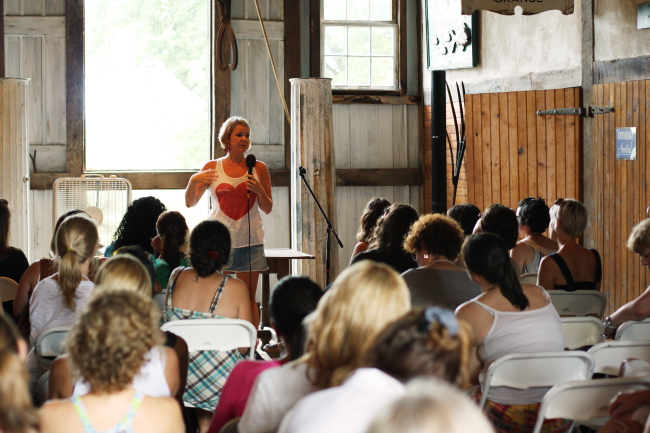 Practicing mindfulness in the Digital Age
How does one practice mindfulness and still stay current in the digital age? The answer is pretty simple: a little bit at a time.
Three ways to get present:
STEP ONE: BREATHING:
Before turning on your computer say to yourself silently as you breathe in: "Now I am breathing in." When you breathe out, say silently to yourself:  "Now I am breathing out." Do this for a couple of reps and then turn on your machine and get to work. A little check in such as this is a perfect way to introduce yourself to the concept of mindfulness.
STEP TWO: SENSE PERCEPTION
Try perceiving things like a child, in which everything is miraculous.  Don't analyze what you're doing, just simply perceive. No need for interpretation or writing up a blog post in your mind. Just feel the awe and wonder of someone doing something for the very first time.
Mindfulness assignment: Eat a tangerine one segment at a time
If you can not eat a single segment of a tangerine you can not be present for eating the entire tangerine. Try eating a single piece of fruit with clarity of a child-like mind. Eat as if you've never eaten this fruit before. Breathe gently. Deeply. Take hold of your breath if your mind strays.
How many meals have stopped you cold in the moment? Have you ever eaten one single bite of something so overwhelmingly good you had to stop? That's mindfulness.
Have you ever been so completely present to a moment of eating it became more than just a simple bite, it became an experience? Eating mindfully will give you the space for new ideas and will offer you a new perspective on the food you're eating.
STEP THREE: BECOME AWARE
Become aware that the only time you can experience is now is an important one. There is no future. You can not be present in the past. This is all there is.
We can not do something now to get somewhere in the future. We must simply be here now.
Mindfulness assignment: Mindfulness while doing dishes
Do you wash dishes to get to the next thing after your kitchen is clean? Have you ever hand washed dishes, only to discover they are some how still somewhat dirty? Try looking at washing dishes as an opportunity to become mindful. Be present to washing each plate, each knife, each cup.
How to practice mindfulness in simple, do-able ways
When the phone rings, take a deep breath in and a deep breath out before you answer.
Become aware of your breathing when you walk. How many steps can you take while you breathe in? How many steps do you take while you breathe out?
Take your time peeling an orange.  Observe the spray of zest. The scent of the skin. The juice of each segment as you pull the orange apart. Enjoy every detail of the fruit as if it were your first or last orange of your life.
Meditate for 10 minutes at the beginning of the day. Listen to a guided meditation.
Practice mindful breathing in a quiet place. By just turning off your phone, closing your eyes, and breathing in and out for a few minutes you can start to mine a better understanding of mindfulness.