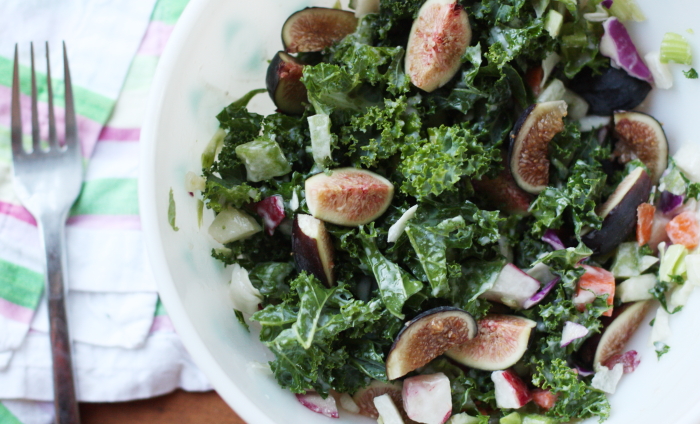 When I go to the market, I always grab at least one bunch of kale to take home. The leafy green is a trusted source of nutrients like beta carotene, vitamin K, and calcium.  Curly or lacinato holds up in my refrigerator for days. It's a perfect choice for someone who is a little too busy to cook everything right away. When other more delicate greens threaten to wilt away the moment their picked, robust kale holds up in my crisper for days on end. Kale is, without a doubt, the perfect food source for a busy lifestyle.
It wasn't until I had the pleasure of helping the Hatfield's open their newest restaurant, The Sycamore Kitchen, that I discovered a whole new way of eating kale. Raw kale in a salad may not sound particularly crave-worthy, but the combination of sweet figs (or you could use Medijool dates), tart cheese (I like feta but the Hatfield's prefer blue), and curly kale makes for a meal that is wholesomely satisfying.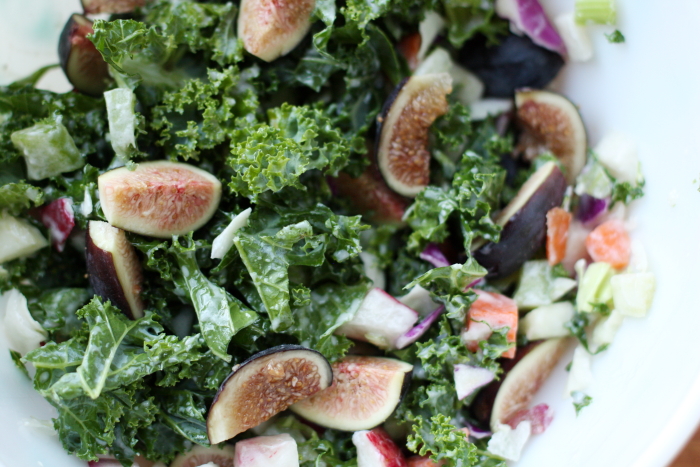 Kale Salad with Medijool Dates and Feta
Serves two
Be sure to use curly kale for this recipe. Wash it well, remove the stems (fold the leaves in half and cut the stem out by slicing down the center fold), and chop the leaves into tiny, bite-sized pieces. The smaller the pieces, the easier it is to eat. I recently discovered a pre-washed and chopped bagged kale at Trader Joes. A super convenient choice, especially if you're on the go! One note of caution, however, the bagged kale sometimes has its share of stems in it. If you notice some stems have made their way into the mix, chop them off!
For the Yogurt dressing:
1/3 cup plain yogurt
2 tablespoons olive oil
2 tablespoons rice wine vinegar
1 teaspoon of agave syrup
salt and pepper to taste
For the salad:
4 cups chopped curly kale (before chopping, remove stems from the center of the kale)
4 whole ripe figs (or substitute with 4 Medijool dates, chopped), halved
1/4 cup feta, crumbled
1 small carrot chopped into small bite-sized pieces
1/4 cup chopped red cabbage
1 tablespoon of rice wine vinegar
To make the salad, sprinkle the kale with a small pinch of salt and a light drizzle of vinegar. Massage the greens for a few seconds until you feel them start to soften a bit. Set aside as you chop up your veggies.  I suggest that if you have any random veggies hanging out in the fridge, add them to the salad as well. I recommend chopping up a bit of radish, celery for a bit of extra crunch! Add the carrots and the cabbage.
For the dressing: Mix all the dressing ingredients in a separate bowl. Make sure to mix well with a small whisk or fork to create a creamy dressing. Taste. Season or adjust for taste. Add the dressing to the salad mixture. Toss. Add the figs and the feta. Toss some more. Serve.