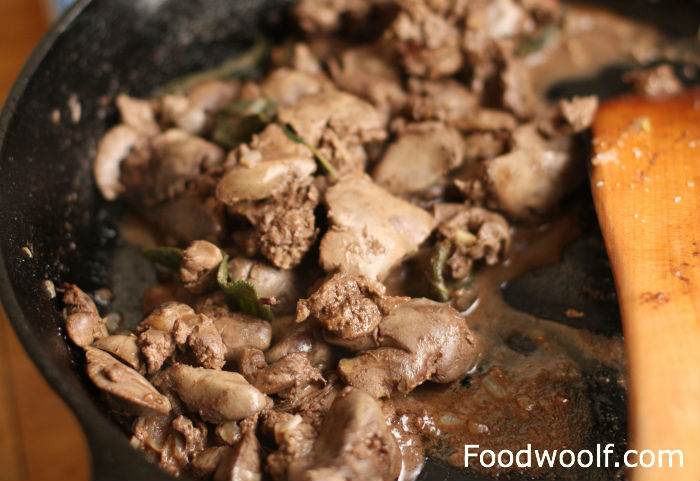 I stopped eating meat at seventeen. The bloody grease on the flat-top grill of my summer job was the initial motivator for my abstinence. Then a documentary about the abuse of our planet and suffering of feed animals sealed the commitment. I didn't cook or eat meat for fifteen years after teenage resolution.
More than a decade after I swore off meat, I was hired to be part of the opening team at steak house in Los Angeles. During training, I decided to taste meat again for the first time in fifteen years. I put a thimble-sized morsel of dry aged steak in my mouth and felt my body chemistry change almost instantaneously. The warm and juicy meat, the aroma of smoke and earthiness, the fully rounded flavors of the steak made me tingle. I felt my face flush. I felt alive. I began to feel I needed to look past my politics and chew.
It took me some time to figure out my carnivorous stance, but thanks to a greater understanding of my role in the food chain, how to balance my consumption and be responsible and informed, I am able to make educated and ethical decisions at the butcher's counter.
Mindful Meat Eating
My diet isn't focused on meats–I eat mostly vegetables and grains–but when I do purchase chicken, beef, lamb, or pork, I purchase the meat from trusted sources.
I do my very best to maintain the same political and ecological views of my vegetarian years by seeking out humanely raised, free-range animals fed on a healthy and appropriate diet by small producers. I shop local butchers (Lindy and Grundy are a pair of bad-ass female butchers in Los Angeles who foster close relationships with their local purveyors) and, whenever possible, I buy directly from the people who raise the animals and slaughter them. I want to know as much about what I'm eating and what impact that purchase has on my local economy and planet.
Waste Not, Want Not
When I buy a whole chicken (Lily's from the Hollywood Farmers Market, Kosher Organic from Trader Joe's, or free range grain-fed chicken from Whole Foods), I consider the purchase as an investment in several meals. When I get creative and use every part of an animal (meat, bones, and gizzards), I minimize my ecological and economic impact.
A whole chicken can be a warm dinner with gravy, cold sandwiches, and stock for days. And, if I'm feeling especially fancy, I'll make a simple chicken liver toast (cleaned chicken livers sauteed with a bit of garlic and a squeeze of lemon on toast) with the liver as a pre-meal bite for my husband and I.
But now that I am a true meat eater and know how to roast a whole chicken and how to clean chicken livers (see below), sometimes I crave more than a single bite of chicken livers. For special occasions, I like to go to the market, pick up a pound of chicken livers, and whip up this delicious chicken liver crostini recipe I developed. I took what I learned from working for Nancy Silverton and Mario Batali at Pizzeria Mozza and merged some research with Marcella Hazan and came up with this recipe.
Buying a pound of chicken livers at the market is not only inexpensive, but the act itself makes me feel like I'm contributing to minimizing waste of a perfectly good ingredient.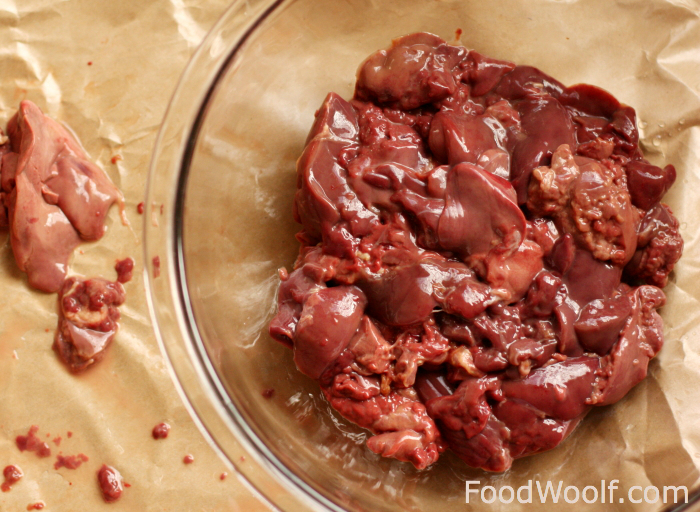 Whole (Bird) Ideas

When buying a whole bird always think about the possibility of stretching your dollar. How many meals can you get out of this one bird?
Roast the whole bird (my Sriracha Chicken recipe is delicious and super easy).
Make stock from the left over bones and the neck
Make gravy with the giblets.
Make crostini with the liver using a variation on this recipe or something simple like this one from my friend Adam at Amateur Gourmet.
For the garnish:
enough sage leaves for each crostini
2 tablespoons butter
Maldon Sea Salt

For the toast:
1 large clove of garlic, peeled
1 fresh baguette

For the Chicken Liver Spread:

Check over the livers carefully for green spots (bile) and cut them away. Carefully remove any bits of fat from the livers.  Wash livers in cold water. Pat dry with paper towels.
Add butter and shallot in a skillet. Turn heat to medium. Cook until the onions become aromatic and pale yellow in color. Turn the heat up to medium high and add half the sage leaves and the chicken livers to the mixture. Sauté until the livers lose their raw, burgundy color–for about 2 minutes–making sure to turn the meat frequently. Transfer the cooked livers using a slotted spoon to a plate to cool.
Add the vinegar and lemon to the skillet. Using a wooden spoon, scrape whatever bits of liver remain in the pan and let the liquid simmer briskly for half a minute. Add any of the liquid that may have drained from the livers as they cooled, to the skillet. Boil the liquid away.
Return the livers to the pan, turning them once or twice. Add salt and pepper. Turn them again. Taste for seasoning. Turn off flame.
Let the livers cool a bit before placing them into a food processor. Chop for a few pulses, or until the chicken livers become more like a chunky paste.

For the Garnish:

Melt butter into a small skillet. Be careful to watch the pan, especially when the butter begins to foam and smell nutty. It is just a few seconds away from turning into brown butter–a few seconds more and you'll burn it. When the butter becomes golden in color turn down the heat.
Add enough flattened sage leaves to the pan so they each have enough room to soak up the butter and cook. Using tweezers or chopsticks, or a fish spatula–flip over the sage leaves once they are cooked on each side. The leaves should have a slightly darker hue–not burned! When the sage leaves are cooked on both sides, place the leaves onto a paper towel to dry. Sprinkle with Maldon sea salt.

For the toasts:

Slice the baguette into thin rounds, about 6-12, depending on how large you want your crostini.
Toast the bread until just before golden, not burned. Rub the garlic clove lightly over the bread while it's still warm
Spread the chicken liver mixture onto the garlic-rubbed toasts. Top with a sage leaf, add a smidge of Maldon Sea Salt. Serve immediately.