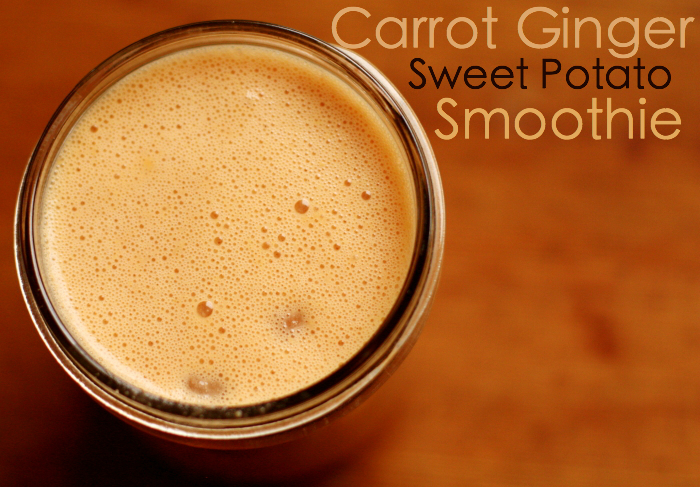 Don't own a juicer and want to make healthy breakfast drinks? Great! All you need is a blender, good ingredients, and an imagination for flavor and texture. Here are a couple of my tips for making a great tasting smoothie:
Think about making the most of natural sweetness. I recommend you stock up on bananas and freeze the ripe ones. Grab a few bags of frozen berries and keep them in the freezer for any time smoothies. I love the organic mixed berries at Trader Joes.
Consider texture. Frozen bananas and frozen berries work great. Maybe you'd like to add soft tofu, Greek Yogurt (I'm a huge fan of Fage), a handful of nuts (cashews or almonds are the best), or even roasted sweet potato.
Add in some protein. Look for healthy ingredients like Kefir (I love lactose free Green Valley Organics) or unsweetened yogurt. See some of my suggestions up above.
Use a healthy liquid to tie it all together. I use coconut milk, almond milk, orange juice, and carrot juice to add flavor and/or sweetness.
Since doing a juice cleanse last week, I've been making a fair amount of smoothies and breakfast shakes to start my day. By skipping a big egg and toast breakfast, I've been able to stay away from caffeine, bread and pasta, meat, and processed sugars for over a week now. This clean way of eating has me feeling clean, healthy, and full of energy. Starting my day off right with a blended smoothie or a glass of carrot juice helps me get into my day with good clean energy.
Sometimes its fun to get adventurous in the kitchen and use already prepped ingredients for new recipes. This smoothie's texture benefits from the sweetness and texture of sweet potato and the spiciness of fresh ginger. The best part is you don't have to own an expensive juicer to make this smoothie.  The ginger gives you the energy boost you'll need (and may reduce your cholesterol!)  and the sweet potato offers complex carbohydrates, potassium, fiber, beta-carotene, and vitamins C and B6.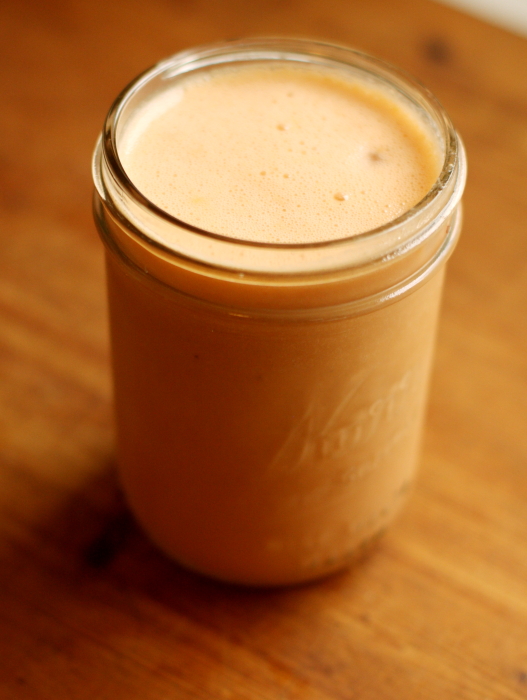 Sweet Sunrise Smoothie

3/4 cup carrot juice
1/2 cup Kefir (your favorite flavor)
1/2 roasted sweet potato, without the skin
1 tablespoon unsalted cashew butter
1-2 inches of ginger, peeled and sliced (depending upon how spicy you want the drink)
6 ice cubes

Put slices of sweet potato and ginger into the blender with the carrot juice. Blend until not so chunky. Add the Kefir, cashew butter, and ice cubes, blend until smooth. If you want a thicker consistency, add more Kefir. For more liquidity, add more carrot juice. Enjoy.