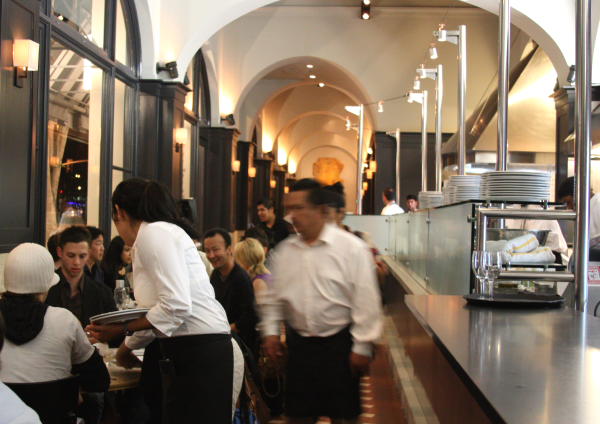 In every business there are a buzzwords that alert the expert in their field to a minefield of potential problems. When a director steps on set to hear the new actress declare she's "been thinking about the script," they gird themselves for a calculated conversation about character development, plot, and close ups. The late afternoon call from a panicked client to a PR agent that begins with "this will take just a minute," is a red flag phrase that points to a conversation that will result in an even longer day.
And so it is in restaurants. Whenever I hear the words "I've eaten in restaurants all over the world," I prepare myself for a diner who does not understand the guiding principles of the restaurant business. I adjust my approach for the sort of person who prefers to wallow in a shallow pool of knowledge rather than jump at the chance to try something unfamiliar.
Bottom line, when I hear I've eaten in restaurants all over the world I know that the person saying it is someone who is extremely uncomfortable in their environment.
Take for example the angry guest that can't order his usual Absolut Martini at my bar. When I tell him we don't pour Absolut or Grey Goose he gets annoyed and demands his trusted vodka. He doesn't want to hear what other great choices he has to choose from. "I've eaten in restaurants all over the world…" he says. And so begins a tirade about how unreasonable and snooty we are to not offer his brand.
How I deal with "I've eaten in restaurants all over the world…" at the bar

In order to calm the guest down, I explain why we choose to pour artisan vodkas, gins, and bourbons. Though Grey Goose and Belvedere may be very popular, I tell him the restaurant picks every ingredient for its high quality and traceable sources. I tell him we offer a 100 percent organic American rye vodka from Square One, Lukuskowa–a refined potato vodka from Poland–and Hangar One, a small batch vodka made in a renovated California airport hanger. Conceivably, this information would sooth the irritated drinker. Often, it only makes the angry guest even more aware that they are outside their comfort zone.
It's at this moment I wish I could ease the guest's malaise. Or send them on their way to a bar that serves overflowing $7.00 Absolut martinis.
I am aware that trying something new can be daunting. I may be adventurous when it comes to eating, but when it comes to diving head first into a pool I just can't do it. Despite growing up swimming in the ocean and in our family's quarry, I still haven't learned how to dive. I just can't get past the idea that I might get a bunch of water up my nose or hurt myself. And so, despite lots of trusted advice, I continue to cling to one way of doing things: I jump into the water feet first.
Preaching to the uncomfortable
Surely dining doesn't have to be scary, confrontational, or even dangerous because a restaurant isn't exactly what you expected.
For instance, every night at the restaurant, handfuls of diners get irritated when they see that most of the menu is written in Italian. Rather than being able to shoot off their usual fettuccini alfredo order, they must rely on the service staff to translate such dishes as maltagliati with wild boar ragu, bavette cacio e pepe, spaghetti a la gricia. Despite the fact that the food of my employer is celebrated by critics and has been awarded high honors by James Beard, diners continue to battle with the idea of putting their trust in me, their server.
By the time I've described how maltagliati means "badly cut", that gricia means "grey" (and is made that way from the guanciale—pork jowl—sauteed onion, and red pepper), or that the bavette is tossed with with pasta water, Parmesan, pecorino cheese, and black  pepper, the uncomfortable guest is now enraged. "I've eaten in restaurants all over the world…" they say. "Why can't you just serve a couple regular dishes like a nice angel hair pasta or fettuccini alfredo like everybody else?"
This phrase conveys to me quite clearly that the person saying it doesn't like to trust people they don't know for advice on a subject they themselves know very little about. Who is "everybody else," I wonder. Italian chain restaurants? Olive Garden?
My word, try something different!
The I've-eaten-in-restaurants-all-over-the-world people are traveled folk that–despite their international experiences–feel uncomfortable trying new things and often order specific dishes in hopes of duplicating a certain past experience over and over again. Maybe there's a dish that you discovered once a long time ago that enjoyed very much. But just because someone else makes that same dish differently doesn't mean it's wrong. It just means it's different.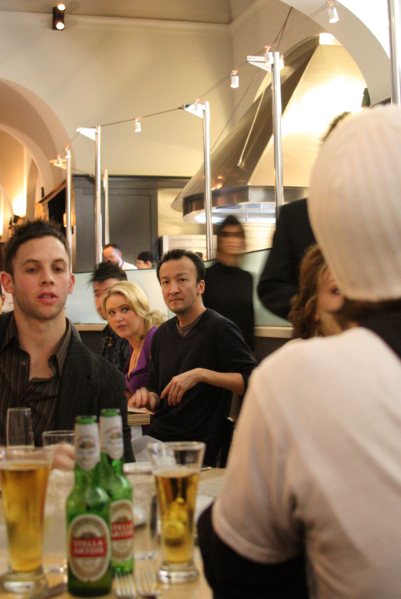 How you can tell you might be an "I've eaten in restaurants all over the world…" type:
Seeing unfamiliar menu items makes you extremely uncomfortable.
A menu in another language makes you think the restaurant is trying to be snooty.
Once you find a dish you like, you don't like to try anything else on the menu.
You order steak at every restaurant you go to.
You expect to pay the same price for the same dish at every restaurant you visit.
You wonder why things on the menu aren't "normal" or "regular."
You can't comprehend why everyone can't make a dish or a drink like that other restaurant you love so much.
How to avoid being an "I've eaten in restaurants all over the world…" type:
Don't' be afraid to ask questions about menu items you're unfamiliar with. If you don't know what that word is, chances are most of the other people in the dining room aren't so sure either. Remember, knowledge is power.
Go to well-reviewed or recommended restaurants. Then, once you get there, ask your knowledgeable server what dishes they would order if they were coming in for dinner with a loved one.
Order something other than steak.
If money is tight, look at a restaurant's menu online before you go. Don't go to a bar that charges $14 for a cocktail if you think that's unreasonable.
Anticipate variance from one restaurant to another. Not all restaurants serve the same items, even if they do share similar ethnic or cultural inspirations.
Expect the unexpected and don't freak out.
What kind of diner are you?
Other Service 101 Posts: