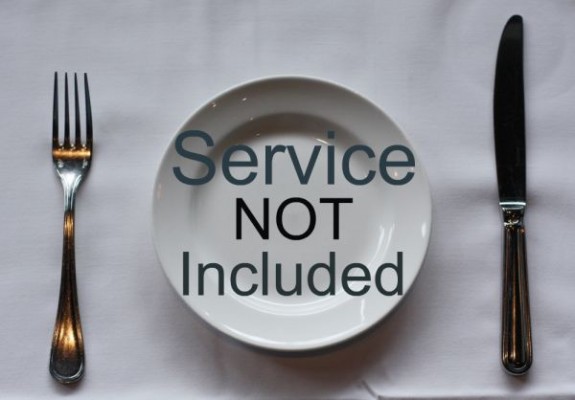 One thing is for sure, if you've ever paid a restaurant tab you have are more than likely to have a strong opinion about tipping. Maybe you always tip 20% of the total bill. Maybe you think a 15% tip is sign enough that you've gotten good service. Or maybe you consider tipping a kind of frosting on the cake. Poll a random group of diners on their thoughts about tipping and within seconds you'll feel the temperature rise as ardent responses come hurling back at you. No matter what you think about tipping, just about everyone has an opinion about what constitutes a good or bad tip.
I'm always amazed at how downright heated discussions become when the topics of service, tipping, and restaurant policies are brought up. People who have never worked in the restaurant business, lifetime servers, part time waiters, and frequent diners all seem to have strong views on the subject. For someone like myself–a restaurant professional who has worked in the industry for decades–I definitely come at this subject from an insider's point of view. Not only do I write about service, I also read quite a bit about the subject. What surprises me the most is the ardent online chatter (nay, SCREAMING) about restaurant service.
Recently, CNN's new food blog, Eatocracy, polled their readers on their view on tipping. Practically overnight, 45,000 opinionated readers responded with votes and lengthy ALL-CAP rants discussing exactly why they thought it was right or downright wrong to leave no tip if bad service is rendered by the waiter.
49% of voters said they left servers no tip after receiving bad service

29% left a low tip for bad service

15% said they would never leave nothing, and would never leave anything less than 15%

5% said they left a penny, just to prove a point
Based on these statistics, it's easy to see that the average diner perceives service as a key element and required job skill for a server.  While many diners are aware that their servers receive minimum wage salaries (according to the Department of Labor's website, some states restaurant minimum wage can be as low as $2.13 or $1.45/hour), many still believe that a server's job is to give good service, regardless of whether or not they receive a tip.
Tipping is not optional
Though I do agree that good service is part of the job description of restaurant employees, the part that many Americans don't want to understand is that tipping isn't optional. For better or for worse, at the current time in the United States, service is not included in your check, it is assumed by the restaurant–and ultimately the Department of Labor–that the diner will leave a tip on 12% to 15% of the total bill for their server.  The problem is, many diners fail to understand that the livelihood of the service staff is in their hands.
Though the diner is free to tip what they think is reasonable, the understanding is –especially within the restaurant business–is that a "reasonable" tip should be in the rage of 12-15% of the total check. Anything above that is to be decided by the diner. Many people balk at paying up on the inherent fees of a waiter because they perceive that they can leave "anything they want."
Giving service is the waiters' job. Tipping is the implied job of the diner.
As flawed as the system is, waiters are one of the rare service professions that hands over complete control to the customer and allows the consumer to decide just how much their service fee should be.  Restaurant service workers are part of a highly-trained professional league that are put in the unenviable position of earning their living through the accumulation of minimum wage dollars and tips from strangers.
A bank teller, a firefighter, and a shoe salesman might not hold a job you would consider enviable or highly difficult (they all require a certain level of expertise and great service), but the cost to the consumer is hidden within every transaction made with the customer. In Europe, a waiter's tip is represented by a service fee that's automatically added to the check (and is also reflected in higher costs for menu items). Though there are some restaurants that automatically add service fees to checks (Think Thomas Keller at Per Se), most restaurants give the diner the freedom to tip what they think is fair. Unfortunately, that leaves a lot of room for creative calculating on the part of the diner.
When you dine out, you enter into a kind of agreement that when you sit down at a table or take a seat at the bar, you will pay a supplemental service fee on top of the food and beverage costs, for services rendered. The service professional cleans up after you, delivers food, fights battles for you behind the scenes, and does their best to create the best dining experience possible. And yet, many diners dismiss the work that service professionals do and cite the fact that a tip isn't necessary for such "mindless" or "menial" work.
"Why don't you get a real job," they say. But the thing is, working in restaurants IS a real job. Prejudice, it seems, is often reflected in the tip.
Waiting tables is an honorable profession and should be treated with a certain level of respect. If you can't afford to tip, you can't afford to eat out. We are not living in Europe folks. Tipping isn't an option. It's part of the diners' agreement.