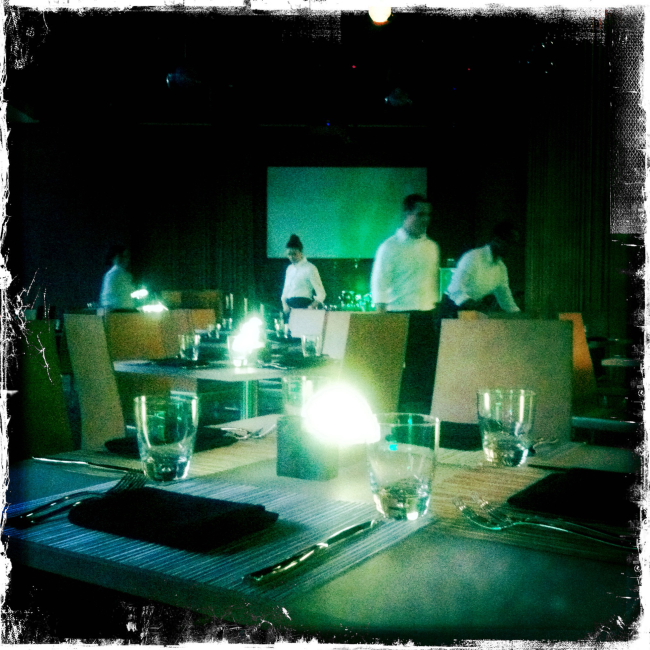 Restaurants are like movies. The restaurant business is a collaborative art form that requires talented people to transform an ethereal concept into something substantial and real. A script will only ever be a script until the vision and passion of a director, cinematographer, producers, cast, and crew transform the words on the page into a movie.  The same is true for restaurants. No matter how many dishes you've cooked or recipes you've sketched out on a notepad, a restaurant isn't a restaurant until there are cooks in the kitchen, a staff on the floor, dishes on a table and a paying customer at the door.
Restaurants–like movies–become something different once life is breathed into them. How the whole thing turns out is really up to something bigger than just one person. It takes a village to make a restaurant.
I may have moved across the country to learn how to make movies, but over the years I've come to understand that what's kept me in Los Angeles is my desire and passion to make restaurants. Sure, I still have plenty of filmic stories percolating in my mind—the magical coming of age story, the comedy about bloggers, and the redemptive love story–but it's the bustle of dining room service that captures my attentions and creativity.
I love the thrill of making restaurants come to life and sustaining them through the long haul. I relish in the potential of restaurants, the personality of a dining room, and the feel of a kitchen as it pushes out plate after plate on a busy night.
Dining rooms are full of passion, drama, characters, and unexpected plot twists and turns. In the best of times– when I'm working in restaurants peopled by an army of talented people–I relish in the camaraderie. I love how a team of professionals can band together, problem solve better than MacGuyver ever did, and keep the whole process from going off track. Even in the worst of times, struggling restaurants have a kind of beauty to them. Success that can be found after a long bout of breakage, waste, inconsistent food, employee shortages, and financial woes are some of the most gratifying.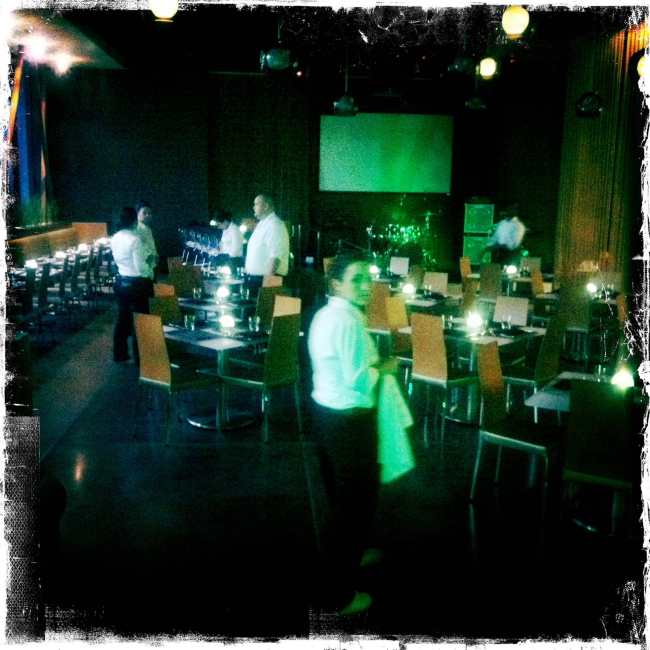 Like movies, when things get sticky, there are lightning fast decisions, company moves, and courageous leadership required. We restaurant folk rely on prop masters (designers), set designers (architects and designers), wardrobe assistants (managers), producers (investors), divas (chefs and front of house talent), deadlines, and casting issues (people don't show up for work or don't play nicely with each other).  Just like movies, some restaurants are easier to understand once you see them up an running. Or—in the worst of cases–appear better on the page than fully realized.
It's been quite a year over for the business I'm in. I've opened two restaurants in less than twelve months, and may be opening another in just a few days. It's been so busy, in fact, I haven't had much time to write, let alone post a brief sentence or two here on the blog. I even missed my four year anniversary of the start of this blog. But anniversaries are something you can celebrate all month, right?
I enjoy restaurant openings, but I approach them with reverence and certain amount of caution. An opening isn't something for the weak of spirit. The hours are long, there's lots of heavy lifting, and the work requires patience and strategy. But when the construction crews go, the tarps are removed, the heavy blankets of dust are wiped away, and the staff stands ready to greet the first customers, it's nearly impossible to remember any ache or pain.  By the time the restaurant doors open for the first night of service, the people who put it together are bonded by blood, sweat, tears, a lack of sleep, a near starvation diet, and aching feet.
And then the real work starts. Here's to filling up my well of energy before the next job starts.