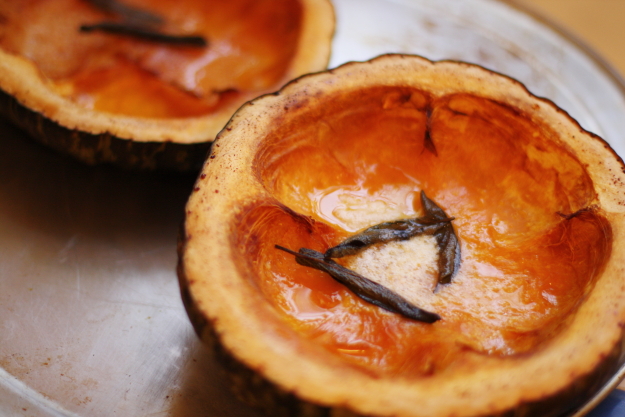 Have I told you I have a new job? I'm super excited about joining the team of Milo + Olive, a wonderful little pizzeria and bakery that's just opened up in Santa Monica, as a General Manager. Getting to be part of a family of restaurants like Huckleberry, Rustic Canyon, and Sweet Rose Creamery is a dream come true. So I've put the freelance service coaching business on hold so I can help run a growing business that's dedicated to beautiful, handmade food that's served by people who really care.
Let me just tell you, I'm more than a little bit busy. Working at a brand new restaurant is like caring for an infant. It requires constant vigilance. The hours are long but the work is incredibly fulfilling. The challenges keep my heart, body, and mind constantly engaged and stretched to the limit. I survive on very little sleep and even less time for food. I power myself through the day with huge dose of excitement, a thick piece of toast slathered with almond butter and jelly, and tall cups of coffee.
Since I only have had one day off a week, the one thing I crave more than anything else is rest and a warm meal with my husband. We keep things simple. For breakfast we like to sauté kale in olive oil with a generous splash of fish sauce and top them with a couple of fried eggs. Or I'll make soft-curd scrambled eggs with feta while he puts together a citrusy-yogurt vinaigrette for a butter lettuce salad. We brew a big pot of coffee, sit at our tucked-in-the-corner dining room table, and fortify ourselves with food and stories of our week.
Exhaustion dictates the menu at dinner time. Sometimes we go out for a comforting bowl of soup and noodles at our favorite Thai restaurant (Pa Ord) or other nights I muster up the power to roast a chicken and some vegetables. Those meals together refuel so much more than my belly. Since I've written here before about my favorite method of roasting a chicken (a la Zuni Café), I thought I would share with you my favorite new comfort food that doesn't take much time or effort to make.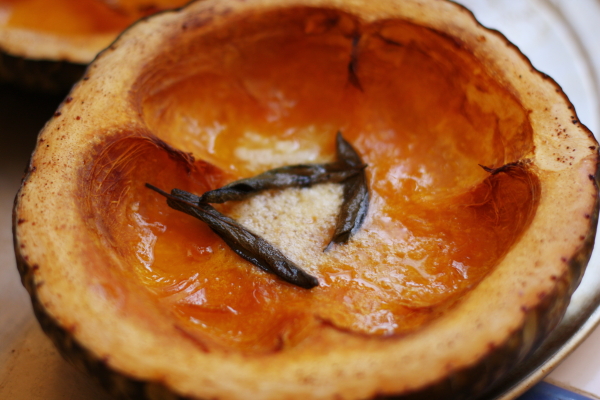 [print_link]
Super Easy Roasted Kabocha
If you have a super loud timer, you can take a nap while this squash roasts. Just slice the thing in half, add some butter, and roast for a little more than a half hour. It's just that simple.

1 Kabocha
4 tablespoons butter (I prefer Plugra)
3-4 sage leaves
Finishing salt
Preheat the oven to 350°.
Slice the pumpkin open (horizontally across). Remove the seeds. Place on a sheet tray slice side up. Add a generous pat of Plugra butter (about 2 tablespoons per side) and few sage leaves. Roast in the oven for 30 minutes, or until soft.
Serve warm. Finish with Maldon sea salt.