Ever since I wrote the essay "How I got into Restaurant Consulting," I've gotten lots of emails from men and women who are considering restaurant consulting as a potential career. Though the people vary in age and approach, they all ask the same big question: What do I need to know in order to become a successful restaurant consultant?
I wish I had a simple one-line answer, but I don't. There are no easy answers or shortcuts for building a meaningful career as a freelancer.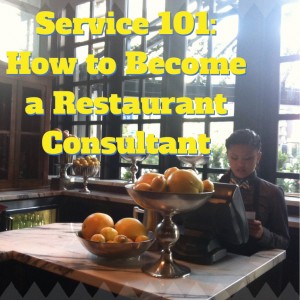 Important questions to ask yourself before starting your own consulting business
The good news is—thanks to limitless resources on the internet, book shelves, workshops, and people like me who offer coaching*—you can find resources and guidance for walking through the process of discovering the best path for your individual career goals.
In time you will need to know how to calculate how much you should charge for services (this freelancer's resource site has a great rate calculator), but first you should ask yourself the complex questions of who you are, what you want, why you want it, and how you want to go after it, before you take your first client meeting.
The hardest part for some is making the time to do the soul-searching work. When entrepreneurs rush to market with little more than a big idea and passion, it's no wonder that one in four new businesses fail within their first year.
Shortcut to the Back of the Line
Look, plenty of people will tell you that starting your own consulting business isn't hard. They say just start doing the work! But you should also know, especially as someone who wants to go into the business of helping restaurants, that rushing into business with little more than a big idea and passion is a recipe for disaster.
I've met plenty of potential clients with failing or struggling restaurants that remind me just how important having a well-defined vision is. When a business gets rolling it's even more difficult to implement a vision plan. Businesses that rush to market or grow too fast are typically organizations that don't have a strategy beyond making profit. They don't have the time to create business plans, employee manuals, or monitor staff training or morale. The result: unenthusiastic service, bad restaurant reviews, menu issues, and serious culture clashes that threaten the health of the business.
Restaurant consultants can suffer the same fate. If you don't know what you stand for, what your particular specialty is, and why you go to work every day, the quality of your work may be compromised over time. Clients will dictate how you run your business and your social marketing/networking opportunities will go sideways.
A recent Inc. Magazine poll showed that the most successful and thriving businesses were built by entrepreneurs who had a clear vision, were generous to employees (regardless if there was only one employee or thousands), and had a commitment to giving back in some way. So with statistics like that to prove that a motivated and passionate workplace is one that makes a successful business—even if that business is just you working out of your living room—why wouldn't you want to take the time to build a clear vision for a career that's crafted just for you?
Answer the Big Questions
I believe that in order to build a meaningful work life you have to be willing to ask yourself some big, deep questions. It isn't until you write down the answers to the big questions that you can begin to understand and chart the specifics of what kind of consultant you want to be.
Answers give you the direction  you'll need to clearly define what it is you stand for, what you truly value, what it is you want to accomplish, and how you want to do it.
So if you are considering restaurant consulting or a culinary freelance job, I highly recommend you turn inward for the big answers first. Then, once you have a clear understanding of your big vision, you can start the market research process, and ask potential mentors out for coffee so you can ask them a few key questions.
If you take the time to get clarity on your business plan and mission before you start, you will be much better prepared for when things get tough. And things are going to get tough.
When you have great internal motivators to inspire you–even through financial ups and downs, failures, conflicts, and challenges– you'll make being a success an even bigger possibility.

---
How Do I Become a Restaurant Consultant?
Questions to help lead you on your way to knowing the next steps!
---
1. Who are you? What background, training, and talents to do you bring to consulting? What are the key descriptors you would use to describe you?
2. What makes you different? What is your particular point of view about the restaurant industry that people could benefit from? What is it you teach or offer that would differentiate you from a general manager, director of operations, or owner of an existing business?
3. What makes you happy? Be specific here. Describe people, places, and things that bring you joy.
4. Beyond profit, what motivates you? What makes you want to jump out of bed in the morning? What pushes you to go the extra mile, work late, do something kind for others, etc.
5. What are your core business principles and values? What is your personal mantra in business? What is your mantra in life? When you come to the end of your life, what do you want to be known for?
6. What are your deal breakers in business? What will you absolutely NOT do? Would you be willing to turn down a job in order to stand up for a particular value? Are you willing to work in faraway locations or for low pay if required? What are your boundaries for working (hours, location, pay)?
7. Are you seeking to make a difference in the world by being a consultant? If yes, be specific. How do you want to make a difference?
8. Are you seeking a less stressful career where you can be your own boss and choose your own hours? If so, be specific about how you believe you can create a stress-free environment and one that you are in control of your hours.
9. Are you good with change? Give two recent examples of change in your life and the steps you took to respond. Be sure to include how you responded emotionally. Flexibility and adaptability are two of the most important qualities for business success–both in the long and short terms. 
---
You may email me at Brooke [at] Foodwoolf.com for more information on my coach-the-coaches training course or mentorship services.